Charlton Athletic is a football club based on South East London. To book the match tickets, log on to Booking.cafc.co.uk, their official online website. You will get all the updates regarding the club, their matches, videos and many on the website. You can also buy their official merchandise through their website.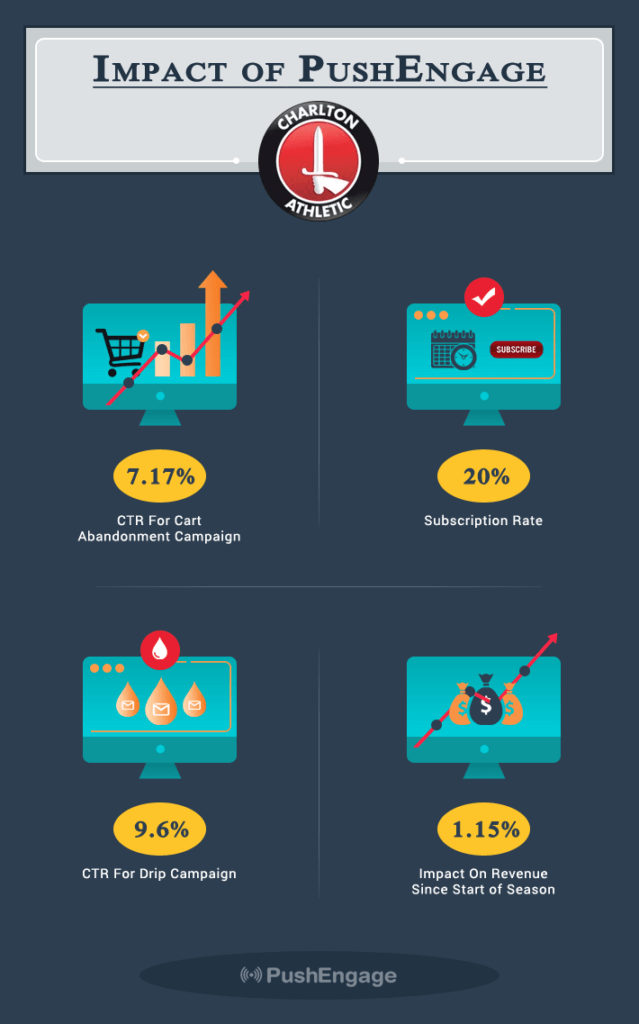 Marketing Challenge
Charlton Athletic was putting a lot of effort into digital marketing. Through their website, they are keeping in touch with fans with all the latest information.
The main marketing challenge was – Engagement. They were having difficulty engaging fans on a digital level.
They were looking for ways to keep their user engaged and updated with the latest events.
How PushEngage solved the issue?
Unlike other traditional marketing channels, web push notifications are delivered directly on the browser even when the user is not on the website. This has proven to be of great benefit to Charlton Athletic. They were able to:
Update users about upcoming matches
Promote relevant messages to the fan base
Increase subscriber base
Recover lost sales using automated cart abandonment campaign
Impact of PushEngage
The main marketing problem was engagement. With PushEngage, they were able to engage the fan base instantly and efficiently. The engagement also resulted in an increase in the ticket sale as well. Also, the click-through rate of push notifications is occasionally higher than email click-through rates.
Impact on Subscription
Fans can subscribe to the Charlton Athletic website in a single click. This has helped them to increase their subscribed fan base very quickly. They are getting a 20% subscription rate using push notification.
Impact on Traffic
Since the start of the season, 0.8% of total traffic is coming from push notifications.
Impact on Revenue
Charlton Athletic is getting 1.15% of total revenue from push notifications since the start of the season.
Most used Features
PushEngage has many e-commerce specific push notification features.
Cart Abandonment Push Notification Campaign
One of the most used feature is the Cart Abandonment Campaign. Charlton Athletic is getting a 7.17% conversion rate in the Cart Abandonment Campaign. It allows you to automatically send push notifications to the cart abandonment users and re-engage them.
Very good experience. The ability to implement this automatically with merge fields looks very professional and saves myself time to focus on other marketing efforts

Alex Avery, Database Marketing Executive, Charlton Athletic Football Club
Drip Campaign
Another important feature that allows you to automatically reach out to the subscriber is the Drip Campaign. One of the common campaigns run by most e-commerce websites using Drip is the Welcome Campaign. Charlton Athletic also ran Welcome Campaign for all the new subscribers. They are getting a 9.6% CTR for the Welcome Drip Campaign.
With PushEngage, Charlton Athletic saw an immediate impact on their business. Their overall digital marketing efforts have sharply improved and resulted in an increase in revenue.
What Charlton Athletic Football Club has to say about PushEngage?
PushEngage is quick and easy to implement. It provides results promptly and the analytics presents them in a clear and understandable fashion. The ability to tailor your target audience is particularly impressive as you are able to increase your engagement rates as you use the software.

Alex Avery, Database Marketing Executive, Charlton Athletic Football Club
If you are looking for a re-engagement tool, give a try to PushEngage.