We did a study to understand the impact of segmentation on Click Rates by different industries. Push Notification sent to the right segment improves your push notification click-through rate.
We analyzed the results to find that Push Notifications with Segmentation can increase the CTR up to 218% depending on the type of industry. Automatic Segmentation is a feature you can use if you are a PushEngage subscriber and segmenting your users based on their activities can get you beneficial results. One of the best practices of web push notifications to get a higher success rate is to send targeted notifications to the segment.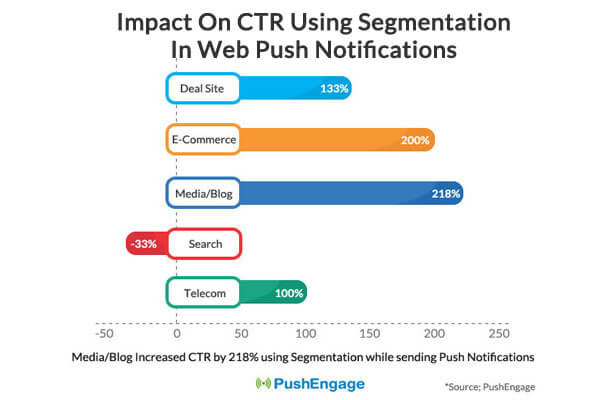 Key Findings on the effect of Push Notifications using Segmentation on CTR depending on the type of Industry:
Media/Blog reaps the highest CTR using Segmentation
Bloggers usually segment their users based on the kind of category they have. After implementing segmentation, the industry reaped a sharp increase in CTR which is quite enormous in number. In gist, deal sites benefitted by a huge 218% increase in CTR.
In fact, this sharp spike in CTR proves that segmentation can help you to get more clicks if used wisely. It can, in fact, attract more users on your website if the notifications they receive are based on their interest.
E-commerce gets a 200% increase in CTR
The rise in CTR for the e-commerce industry was 200% using segmentation and this isn't a surprise at all. This industry can reap more using segmentation as there are various categories of products that can be sent to the segmented category of people. For example, if a person had landed on Flipkart under the electronics category on the mobile page, the user was segmented under the mobile category and was sent push notifications based on the same. These notifications proved him useful and thus the clicks increased.
In the E-commerce platform, once you segment the users, you are actually classifying him based on his personalized choice. So, you can even send a personalized web push notification to a user in a segment. This will create a more impact as personalized notification stays closer to a user and can convert him to a loyal customer.
Segmentation works well with the e-commerce industry. If continued using Auto Segmentation while sending notifications, this industry is sure to improve more.
Search decreased CTR by 33% using Segmentation
The Search industry showed a decrease in CTR. It faced a 33% drop. This emphasizes the fact that this industry doesn't favor much with push notifications using segmentation. So they can send more web push notifications to their users without any segmentation which will improve on their CTR on a better graph scale.
In Search, the needs of users are quite different. The ways to segment probably are limited. For example: in the search industry, the needs of a user are never static and keeps on changing every time he comes. For the first time, he must have come in search of a laundry shop near his place and the next time he might come to a good restaurant for the Chinese menu. The need to keep changing so we cannot segment based on a personalized search like in e-commerce. However, we can do only location-based segmentation. This could be a reason why there was a decrease in CTR for this industry.
Education & Healthcare remains the same
Education and Healthcare messages are very much important. It is rather a necessity to get updated about the launch of medicine or if there is any good offer on diabetic medicines, etc. As a result, no matter what segment a user belongs to, and what push notification from these industries is read by him. This can probably be a reason for the CTR to remain unchanged for Education and Healthcare. This means the notifications sent after segmentation or even without it did not affect the CTR and that the users were enjoying notifications sent with and without segmentation. No matter which segment each user belonged to, they checked for all the notifications that were sent. These notifications were considered a necessity by the users rather than a choice.
Deal Site derives 133% increase in CTR using Segmentation
Targeting users with segmentation before sending push notifications gave a spike in CTR for Deal Sites. This highlights the fact that the effect of Segmentation on CTR depends on the type of industry to a great extent. Sending the best and exclusive deals and offers to segmented users for various activities are sure to click on the push notifications sent and it will get you better CTR.
It is a 100% increase in CTR for the Telecom industry
Using Segmentation, the Telecom industry reaped a 100% increase in CTR. The effect of segmentation in push notifications sent by this industry had a cent percent impact on the users and if continued sending the web push notifications using segmentation, the impact will be much more and the industry can reap higher CTR.
Software Industry saw a drop in CTR after Segmentation
Apart from Search, the Software industry also witnessed a decrease in CTR. A 29% drop was seen after using Segmentation in the notifications sent. Though the number of notifications sent after segmentation was more, the view count and the click count were less and as a result, the CTR dropped!
Segmentation is Easy in PushEngage
Segmenting users is very easy in PushEngage, and you can use our automatic segmentation and use 6 types of segmentation we provide in our platform by default.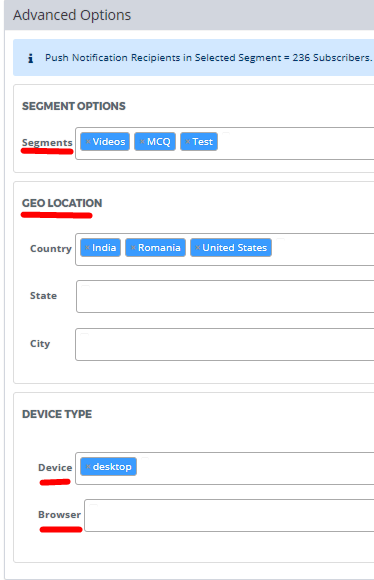 Conclusion:
Taking the data results into consideration, we can conclude the effect of Push Notifications using Segmentation on CTR as follows:
Segment your users rightly: It is always important and necessary to segment your users the right way. If not, your notifications will not reach the needed users and your effort will go in vain. So, while segmenting, make sure the segmentation is on the right way.
Segmentation doesn't work for all industries: Like large image notification, the effect of Segmentation also depends on industry-wise. For some industries, the rate of CTR increases tremendously and for some, it decreases. For others, it does not have any impact. So, it is better to try out the feature a few times to see if it works for you and then continue.
In short, the effect of segmentation in web push notification is not the same for all industries. Right segmentation of users and industry type do depend on the success rate of CTR.
Source
PushEngage is a leading web push notification platform, with more than 6000+, trusted websites in more than 125+ countries. We used the aggregate data set on our platform to arrive at the above conclusions
Related Study
In an earlier study conducted by us on the impact of rich push notifications in web push messages, we found that CTR increased by 62% using large images in notifications.