The journey from being a visitor to being a customer is very crucial for every e-commerce business. To increase conversions, each stage in this journey needs to be optimized. As a website owner, it's your job to keep the journey smooth without hiccups. In this article, we will see that conversion optimization has a different meaning at every stage. You can use push notification for e-commerce, blog, travel, or any online websites. The final goal of the road is to convert the visitor to a paying customer.
Today customer has a wide choice when it comes to purchasing online. The barrier to entry for any new e-commerce website is low. Using the right tools anyone can launch an e-commerce business in no time. With so many logistics companies in the market, getting or delivering products is easy.
To get an edge over this competitive landscape, you need to optimize what you have in your control and that is your website. Many businesses are using website push notifications on their online site. One of the use case of push notifications is to increase the revenue of the website through web push campaigns. The reason is that push notification has shown better performance as compared to other re-engagement tools. We will see how you optimize the website for conversion using Web Push Notifications. Below are the different stages of the conversion funnel:
Customer acquisition
Segmentation
Re-engagement
Customer Retention
6 ways to optimize conversion using web push
Customer Acquisition
For every marketing plan, you need a subscriber base. You are getting a lot of visitors through organic, paid social and other channels. So, you have already paid for getting those visitors. Once the visitor leaves your site, you cannot reach them instantly. Through paid ads has the option of retargeting, you cannot instantly reach out to them. That's where web push notification can bring you the real benefit. However, to capitalize on the traffic, you need to convert them to subscribers.
Here conversion means converting visitors to subscribers. In order to improve the conversion rate, you need to optimize your customer acquisition.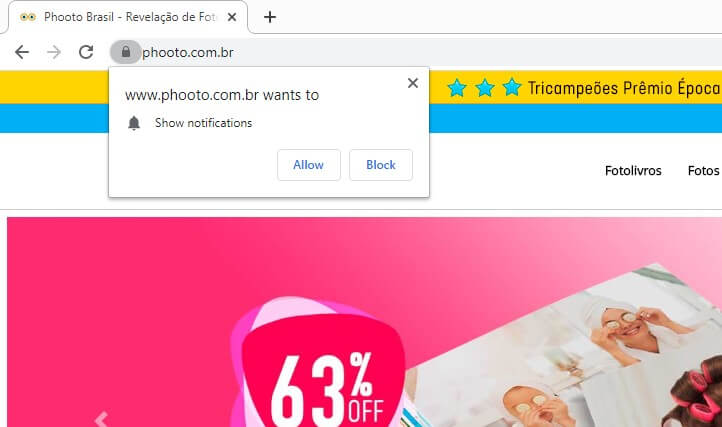 Below are steps to optimize conversion for customer acquisition
Single Step Opt-in: Push Notifications offers two ways to show subscription opt-in.
Two-Step: User has to click twice to subscribe
Single-step: In a single click user can subscribe
Though, two steps allow a lot of customization like a change of copy, color, design, the subscription rate of a single step is high.

So the 1st step to optimize customer acquisition is to use single-step opt-in.
Delay: Showing opt-in immediately when the user lands up increases the friction. Let the user check out what he was looking for on the page. Put delay in showing the subscription opt-in. There are two ways to show delay:
Time Spent: You can decide to show opt-in after the user spent some amount of time. Ideally 5 seconds delay in showing opt-in has shown to increase subscription rate.
Page scrolled: This allows you to show opt-in after the user has scrolled a certain % of the page. Usually, a 20% page scrolled is ideal. This will give sufficient page area to be viewed before the opt-in appears.
The second step in conversion optimization for the customer acquisition stage is to put a delay in showing the subscription opt-in.
Notification Overlay: Why should someone subscribe to your web push notifications? You need to convince users about the benefits of subscribing to push notification. This can be done using the Notification Overlay.
See the below example of push notification opt-in with clear overlay message: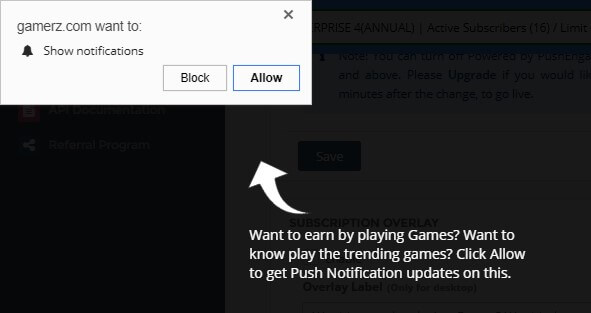 In the notification overlay, the website has clearly mentioned the benefits of subscribing to push notification. Make your copy and test to see which gives a better result.
Subscription Widget: Many times users Block the push notification opt-in. In such a case, the opt-in will not appear and the user will not be able to subscribe. To enable subscription for such users, use the Subscription Widget.

Once the user clicks on the widget, the subscription opt-in will reappear and the user can subscribe. This is very useful to get back the lost visitors who had earlier block it but now want to subscribe as they found value in your website.
Once you optimize your opt-in, you can easily get a 15% to 20% subscription rate. There is an e-commerce website that has got a 20.65% subscription rate using web push.
Segmentation
All the subscribers to your website are not the same. If you reach out to them all with similar push messages, chances of user engagement will be low. Push Notification platform allows you to segment the subscriber based on different conditions. The conversion here is to segment subscribers. To optimize the segmentation stage, make sure that each segment has sizable numbers and has clarity on the subscriber's interest to target.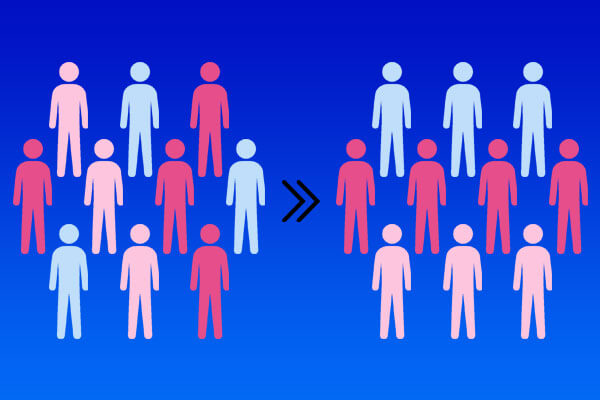 Below are some of the ways you can segment
Device: Users can subscribe to your push notification from any device like Desktop, Mobile, and Tablet.
Geo: As an online website, you may subscriber from across the globe. If you serve global customers, you can then separate notifications for each geo.
Subscription Source: You are getting visitors from multiple sources and users can subscribe to your push notification from any page. Segment your subscriber based on the page from where they subscribed. This shows the initial interest area of the subscriber. Later on, based on other parameters you can segment them.
Product Viewed: One of the important actions which can be used to segment subscriber is the product they viewed. If the subscriber has clicked on the product video or downloaded the pdf file, this will indicate that the subscriber is a potential customer. Segment those subscribers and trigger auto push notifications.
Purchase History: Segment subscribers based on purchase history. This will give an idea about the interest area of the subscriber and you can send push notification related to those categories.
Subscriber takes multiple actions on your website. Based on your marketing goals, you can devise a multiple segmentation strategy. Make sure not to use too many attributes for the segment. Otherwise, it will lead to a segment that is hard to target and doesn't give any good engagement.
Re-engagement
The next important thing in the journey of converting visitors to customers is engagement. Re-engagement is the key to conversion optimization. Once the customer leaves the website, you need to create a strategy to re-engage them. In this stage, the conversion is to bring subscribers back to your website. This is where web push notification has an edge over other re-engagement tool.
The reasons are:
Delivered directly over the browser
The user receives notification even when not on the website
No need to app to use push notification
Instant delivery

For conversion optimization, re-engagement plays a very crucial role. To optimize re-engagement, you need to create push notification campaigns.
To increase conversions using web push, implement below campaigns
On-boarding campaign: When user subscribers to your website, you need to instantly re-engage them. Create an onboarding campaign using a drip feature. Add a series of push notifications talking about your product, your brand; share the most trending product list and more. Also, share a discount coupon as a benefit for subscribing to your push notification.
Promotion: You can run flash sales exclusively for push subscribers. Using web push you can instantly update users about the flash/time-bound sale.

Targeted Drip: Using the drip feature, you can create targeted campaigns. For e.g. if the subscriber has shown interest in electronic products, put them in the electronic segment. Create an Electronic drip campaign where you have added a series of push notifications related to electronics. Once the subscriber enters the Electronic segment, the drip will automatically start sending push notification to them. Similarly, you can create a targeted drip for other segments.
Based on your marketing goals, you can create engaging push notifications to re-engage subscribers. Above 3 push campaigns are one of the most used campaigns to increase conversions.
Retention
Using Web Push Notification you can design campaigns to retain customers. Many times customers check out the different products without purchasing one. There are customers who bought a product but never came back. There are customers who never clicked your notifications and are kind of lost.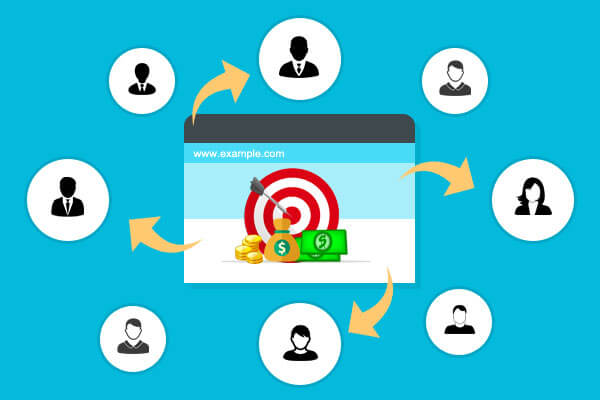 Web Push can help you to retain customers. Retention is much easier than acquiring new customers.
Some of the campaigns designed to retain customers are
Cart Abandonment: Customer usually does not convert in a single visit. To retain lost customers use the cart abandonment campaign. It will automatically trigger the campaign and send a series of push notification to cart abandonment users.
Browse Abandonment: Just like window shopping, customers do browse products without any action. To retain such customers, use the browse abandonment campaign. It is an auto-triggered campaign that will send a series of push notifications to browse abandonment users. The notification will have a product link and image the customer was viewing.
Trigger Campaign: Subscriber takes multiple actions on the website. As a website owner, you know which action can lead to conversion. Set trigger campaigns for such actions. You can create multiple trigger campaigns based on different actions. This is highly recommended for conversion optimization as you will be targeting only those actions which indicate a high level of interest from the customer.
Review: To retain customers you need to make them feel empowered. The best way is to ask for their review and comments about the recently purchased product. Write a copy which shows the importance of their voice. Moreover, having reviews on product increase the conversions as well. Using a web push, you can automate this campaign.
Old customers: Of course there are customers who haven't done shopping for a month or so. To retain them, show the due importance. Share exclusive coupons that can give an additional discount on top of any other discounts.
In the customer retention stage, the objective is to retain customers from leaving and bring them back. Your focus is to convert them to active shoppers. Once, they are active you can run the re-engagement campaigns to keep them hooked to your website.
The above points have a direct impact on the conversion. For conversion optimization using web push, optimize each stage of the customer journey. Two additional things which are a must when optimizing push notification for conversions:
Push Notification Message
One of the crucial things which can help you in optimizing conversions is the push notification copy. Make sure to work on the copy before executing any campaigns. Follow the right tips on creating a great copy that works. One trick is to use the local language in the copy. It creates an emotional connection and increases the conversion rate as well.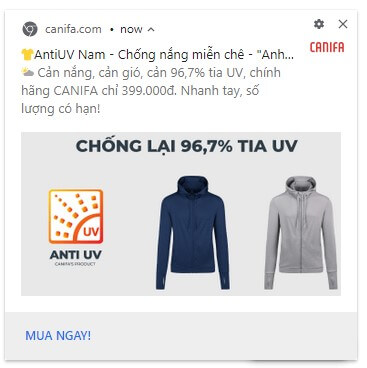 Customer Time zone
As an online website, you can have customers across the globe. Each geo has different timing. Whenever sending push notifications, select the Customer Time zone. This way push notification will be delivered as per the local time of that geo.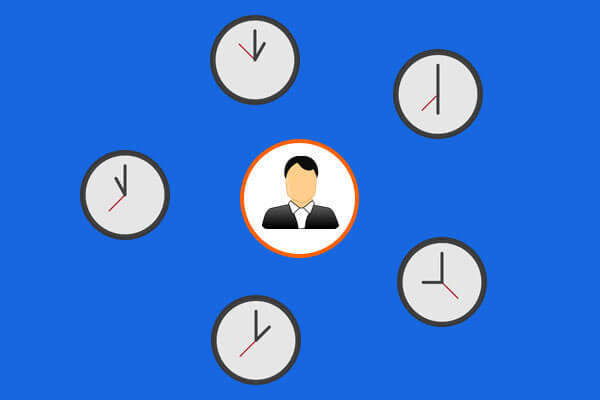 For e.g. you want to send a notification at 4 PM. While sending using the customer time zone, the notifications will be delivered at 4 PM local time of the geo. Sending push notification at the right time has an impact on conversion optimization.
Try out the above strategies and see the impact on the conversions. If you are running out the campaign ideas, check out the push notification playbook. You may find something relevant to your business goal.