What is the Future of Content Marketing?
AI is on the rise, and Microsoft just fired its content marketing team to replace them with robots. Low-quality SEO content is overwhelming and never has the content shock once described by Mark Schaefer in 2014 been so acute. What can we expect for the future? Is this the end of content marketing or content marketing as we knew it? Is inbound marketing still living up to its promise, or should we focus on other things? What does 'quality' mean in content? Should we write for Google or human beings? Should businesses pursue their content marketing efforts, or should they resort to experts?
In our last webinar, Yann Gourvennec, a content marketing veteran and creator of Visionarymarketing.com talked about what the Web was and what it has become, asked the listeners to take a bit of hindsight, and looked at the various areas of content marketing to propose a path for the future of content.

Webinar By Yann Gourvennec
Brief Timeline of Content Marketing
People often mention content marketing like it's something new. While the practice has skyrocketed in popularity over the past few years, the principles of content marketing are around hundreds of years old. And it might do the savvy content marketer some good to possess a couple of classic examples to bust out at parties—or, at the very least, strategy meetings.
In 1895, Deere published the primary issue of The Furrow, an agricultural magazine that published print advertorials. After a couple of decades, each issue reached many customers. The Furrow remains in print today, making it not only the pioneer example of content marketing but the longest-running branded magazine in publication.
If there's one thing we will tell from content marketing's timeline, it's that good content stands the test of your time. Whether you're writing an agricultural magazine or starting a branded podcast, telling the simplest stories will give your brand an area in history.
The 1990s: The Digital Age Dawns and Content Marketing Explodes on the Web
In the 1990s, everything changed for marketers. With the favoured use of computers and, most importantly, the dot-com bubble, marketers shifted focus from television and direct mailing to their digital replacements. Websites and blogs proliferated, and corporations found content marketing opportunities through email. Hence the email newsletter was born! Ecommerce conversions and digital distribution became the bedrock of selling strategy.
2000s: Channel Explosion continues with the increase of social networks
In the 21st century, a replacement medium began to arise — social networks. Channels like Twitter, Facebook, LinkedIn, YouTube, and Instagram presented new opportunities for brands to interact and entertain new and existing customers. But new channels presented new challenges. Brands struggled to compete against one another, and consumers' finite capacity to soak up such a lot of content created the need for ranking algorithms.
2020's (present): Consumers hit their content limit
Content marketing has seen an enormous increase in usage by brands around the world. About 88 percent of B2B companies and 78 percent of B2C companies reported using content marketing in 2015. Experts forecast that content marketing is going to be a $300 billion industry by 2019.
By early 2015, marketers faced a drag. within the rush to "do" content marketing, brands of all shapes and sizes created more content on more and more channels. The result? Many brands wasted their marketing investments churning out content on every new platform that reared its head.
Content Shock Is Here
This upward trend of content consumption isn't sustainable because every human features a physiological, inviolable limit to the quantity of content they will consume. I think as marketers, we've been lulled into a false sense of security thinking that this consumption trend will still rise ad infinitum. That's simply impossible. The Content Shock is coming and that I believe we are starting to enter the zone now.
Every single content producer, every marketer, and each business is standing at this same cliff to a point, and therefore the implications are vast.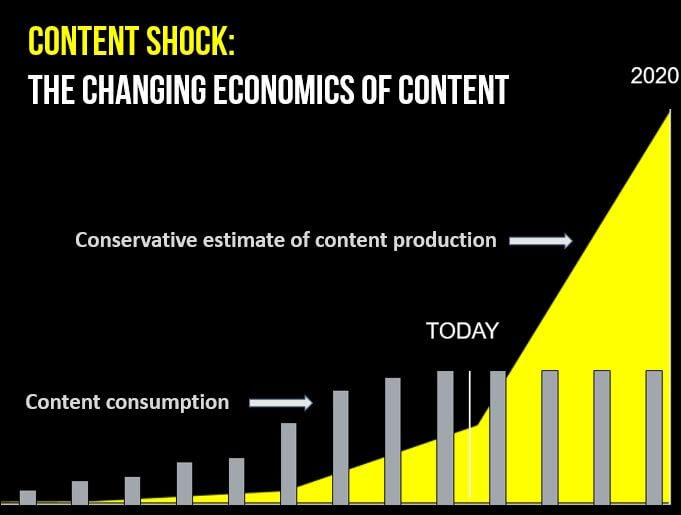 We call this trend the content shock: creating more content with less return. In 2015 alone, the output of content per brand per channel increased by 35 per cent, but engagement fell by 17 per cent.
What this suggests for brands is that, after content shock, the content that you simply spend your valuable time producing may never actually be read by anyone and will be a complete waste of your time and energy. Content shock exhibits itself through indicators that marketers are getting increasingly familiar with: low click-through rates, high bounce rates, and fewer conversions and qualified leads.
Lessons From the History of Content Marketing
In the history of content marketing, we identified patterns and trends that provided valuable lessons
1. Quality over Quantity always
If your brand is simply another voice within the feed, prepare to be ignored. Content competition is getting steeper, and social networks are getting more sophisticated.
To fight the content marketing paradox, you would like to specialise in quality content that resonates together with your audience. Market on fewer channels alright, instead of many channels fairly well.
2. Past Trends Repeat themselves
In the early 20th century, audiences listened to branded radio content like Procter & Gamble's soap operas. Now, we listen to brand-produced podcasts, like General Electric's The Message. It's an equivalent idea, just a special method of communication.
Look at what has worked within the past (even eight decades ago!) and use those successes as inspiration for future content creation.
3. Focus on your Audience
Know your audience, which channels they use, and what sort of content resonates with them.
Identify these methods by examining follower behaviour on your channels and people of your competitors, then implement them.
4. Adapt Whenever Necessary
Your content strategy has got to adapt to the requirements of every new channel, stay top of technological advances, and continue with changes in content marketing practices. As we saw with our Camembert cheese example, if you don't continually evaluate the efficiency and effectiveness of your content marketing strategy, you're likely to fail.
5. Take Risks
From The Furrow to G.I. Joe, to Oreo — many shining examples from the history of content marketing have some element of risk involved.
How did Hasbro know that a TV commercial for a comic book would work? Did Oreo know their "dunk within the dark" tweet would be such a social media coup? And did John Cleese think his YouTube video would go viral?
A data-driven approach is important for creating an efficient content marketing strategy, but if you aren't willing to require chances and check out new tactics, you'll miss out on a history-making opportunity!
Opportunities
For a content marketing blog based on differentiation.
Randy Frisch's content experience Framework
"The reality is that writing content and placing content within context to our audience are two very different things," Frisch said. It's the content experience, a part of content marketing that's ignored. Frisch said there's an identical problem with account-based marketing. The main target is on tiering accounts and picking the proper ones to figure on. He said we start at the start of the method, hiring resources and implementing technology for that phase and that we create content, but we don't move beyond that.
Context experience is the evolution of content marketing; subsequent logical steps within the investment of content. Frisch wrote his book to form companies and other people understand that there isn't much point in doing content marketing and browsing all the trouble to make great content if we don't specialise in the experience.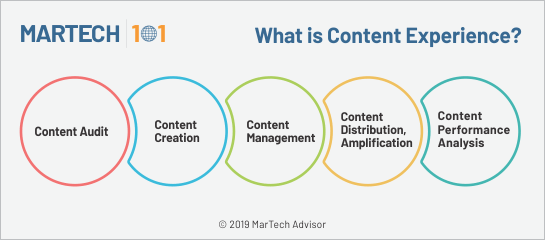 Frisch walks through the entire framework in his book, and you'll study it on Uberflip's website also. Within the book, he talks about the framework within the context of 4 marketing strategies: inbound, demand generation, ABM and sales enablement. He told me these are just the foremost current marketing strategies, but the framework is adaptive and may support any new strategies which will come along.
The framework is the same no matter which strategy is used, but there would be some differences, for instance in personalization and therefore the sort of targeting.
Flip the Funnel
The traditional lead-based sales and marketing funnel has become a cone by using account-based marketing. The tip of the cone is your initial lead. This lead becomes your first contact and is then developed into an account.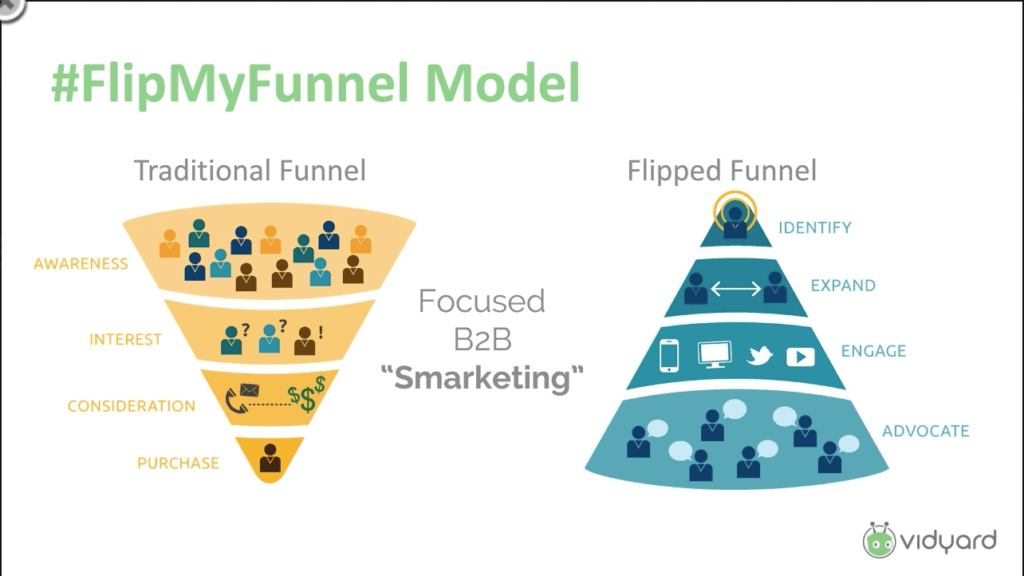 Fundamentally, you specialise in the qualities of your existing customer and what makes them happy or unhappy, and work backwards from a satisfied customer and slowly broaden the audience in order that you're continually applying the metrics of "happiness" to your clients and prospects no matter where they're in your sales funnel. This may help clients start to advocate on your behalf. that's the flip — your customers become the gravity in your funnel and pull other clients in, instead of you having to push prospects through.
Yann's top tips to Flip the Funnel
3 recommendations with regard to ABM
Ask the right questions in the right order.
Producing content is not the end in itself, don't become content zombies.
No copycat, no hard selling.
Standing out from the crowd is a must-have. The power of the metaphor and images.
Work with the experts, grow your networks, give and ye shall receive.
I think there's a bright future for content marketing as long as you behave like humans and not the machines. But if you are going to go online and cherry pick content from their creators, the machines are far better at it than you

Yann Gourvennec
5 WOMM Rules
Authentic
Respectful
Social
Measurable
Repeatable
Yann's own Model: From Influence to Congruence
Influence– Influencer support, to confront them, to make your ideas evolve or to make them known.
Confluence – Design Quality content that sets you apart from the competition with the help of recognised B2B experts in your field.
Affluence – Content is good, results are better. This is possible through the addition of performance-based web marketing mechanisms that will transform confluence into leads and then into prospects and customers.
Congruence – You no longer follow communities, you nurture them, inspire them and make them possible.
Bring audiences together and make them collaborate, innovate, share, improve, create, invent, etc.
Word-of-mouth – Visibility or even differentiation is no longer enough. You have to create your own "content-shock" and stand out from the crowd, become remarkable and nurture communities.
Summary of key SEO questions covered in the webinar by Yaan
Q: Does just adding the content on the website with our backlinks etc, work?
A: This is kind of a rhetorical question. Of course, it doesn't.
You have to position this content. It has to stand out, so it has to have a different angle.
The content has got to be well indexed. So the SEO part has to be done properly, it's content hygiene as we call it.
To an extent, backlinks are useful but only under one condition – They should be valuable backlinks.
---
Q: In terms of budget, what do you suggest is the best ratio production/distribution?
A: I've always said and will always say that as a customer, a business must always do a part of the job of content creation if possible. But there are other ways of working that can make it possible for you to save money on content production. Create project-based content. Set up a particular set of pieces, so that if it doesn't pan out and you haven't planned properly, you'd have to add more money. So make it either project-based or time-based. It also depends on your audience. If you are a B2C, you'd spend a lot on Adwords so it'd be 30% and in B2B it should be 60%.
---
Q. How push notifications can help in content marketing?
A: Push notifications are a great way of engaging your audience and bringing the additional crowd to your website. But you have to do it very efficiently and make sure you don't drown people in push notifications. So if executed properly, yes definitely, it is a positive way of adding additional visits to your site.
---
Q. How to use old content on the website to generate new traffic?
A: This is a discipline in itself. Content re purposing is very important, I really agree with you. It's a good process of going back to your old content and reviving it. Build and Update. I usually start with Multimedia because it is a lot easier to reproduce multimedia than texts.Videos can be turned into Mp3 and then turned into podcasts or in a transcript, as a blogpost. Also in terms of SEO, alot of my old pieces were out of date, so It's something we have to do. Also, some stuff gets irrelevant overtime, so revamping is required.
---
Q. Recently, I wanted to take a certified course on content writing then saw the tag of AI tools taking over content marketing soon. I need a clarification whether to take the course or not?
A: I'd say for the next 5 years, No. These machines will definitely help and do some of the work but it won't take over the man's job. It's definitely more intelligent than it was a few years ago, it's still nowhere near human intelligence. Also, content writing is better with practice and I don't think any course can teach you the same.
---
Q. I'm based in India but need more traffic from the US and Uk, how can I achieve it with content marketing?
To start with, you need to have a local IP address, then your content will be considered as local. You have to standout, find strategies and appeal to people.
.