Digital marketing can help you grow your business in so many ways.
If you're looking for ways to grow your business, chances are you've already heard that digital marketing is super-affordable and easy to scale. And you're probably looking for new ways to better market your brand. But the real question is… how?
In this article, we're going to show you 9 ways in which digital marketing can help grow your business.
And it doesn't matter if you don't know anything about marketing. You'll still be able to follow along with this article. It's totally beginner-proof.
Let's dive in!
#1. Level the Playing Field
Digital marketing levels the playing field completely. You can grow your business no matter how small it is today. You can compete with much bigger brands using digital marketing and you don't always need a huge budget.
One clear example is how Dollar Shave Club grew to a billion-dollar business in five years.
Before Dollar Shave Club started, the razor industry was dominated almost entirely by Proctor & Gamble. But with clever video advertising on YouTube and onboarding a series of YouTube influencers, Dollar Shave Club started to skyrocket.
They disrupted an industry that was considered disruption-proof. Men start shaving as soon as they hit puberty. And it's incredibly rare for anyone to switch products that they've known for so long.
And yet, Dollar Shave Club did it with the help of digital marketing! It's an object lesson in growth hacking.
#2. Invest In Cost-Effective Marketing
What do you do if you can't afford to create a $33 million advertisement featuring Nicole Kidman in a brutally competitive market?
While Chanel was doing exactly that because they can, Aromapre was running Instagram Ads: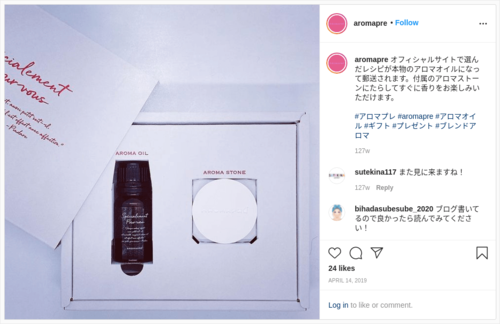 Aromapre is a new luxury fragrance brand in Japan that's making great inroads with aroma oils.
They're a complete startup, but they're leveraging cheap digital advertising to compete with the big brands. Well, at least they are in Japan!
#3. Conversion-Focused Approach
37signals changed the design of their Highrise product page: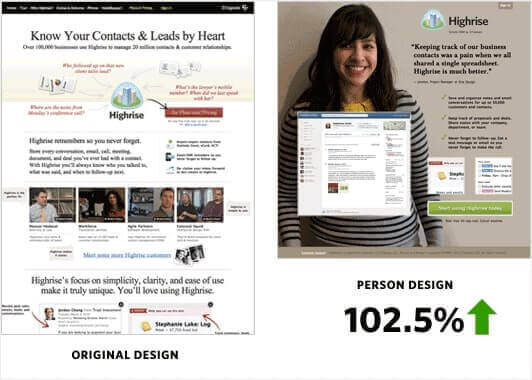 And the result was an incredible 102.5% spike in conversions.
See, that's the beauty of digital marketing. You can A/B test literally anything on the fly and find ways to optimize every part of your sales funnel.
This is a major difference between digital and traditional marketing. You can't really A/B test a billboard and keep optimizing it on the fly. Once it's out there, it's out there!
You can also set specific goals and track your progress with each campaign.
So, if you want a more conversion-focused marketing approach, you need to adopt digital marketing right away.
#4. Add Another Revenue Stream
We're not saying that you should drop traditional marketing altogether.
But digital marketing can help you add another revenue stream to your business. We've already seen how cost-effective it is and how quickly you can scale using digital marketing. So, it's a good way to make more money without compromising your original brand.
A great example of this is Ray-Ban. Take a look at this cart abandonment push notification by Ray-Ban: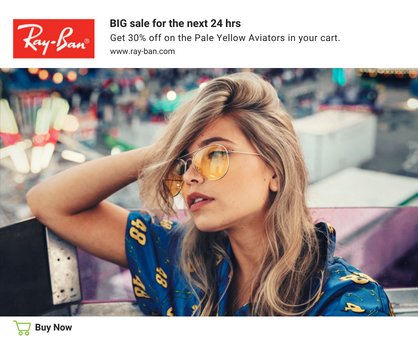 Of course, Ray-Ban is still sold in physical stores across the world.
But penny for penny, Ray-Ban's automated web push notifications generate traffic, engagement, and additional revenue from their website.
And if you're running an eCommerce site, you can set up a cart abandonment campaign of your own. You don't have to be a mega-brand like Ray-Ban to do it and it can generate a lot of extra revenue for you.
#5. Get Granular Targeting Options
Let's say you put up a transit shelter display (a.k.a. Bus stop ad).
Who do you think is going to see it?
EVERYONE! Sure, your ad may appeal only to a specific target audience. But everyone's going to see it anyway whether they buy from you or not. This is a big problem because a location with a lot of footfalls will be more expensive to advertise in.
Think of it this way: If you put up an advertisement in the center of Times Square in New York City, that's a really crowded space and a LOT of people will see your ad. But that also means that it's going to be very expensive because that's how outdoor ads are priced. The more people see it, the more expensive is your advertising.
But how many of those people are actually in your target audience?
The beauty of digital marketing is that you can actually target a specific audience using granular targeting options. This way, your ad only gets seen by people you want to sell to.
And it's not just for ads. You can even target a very specific organic audience by intent and interest. The Wirecutter does an epic job of this through SEO: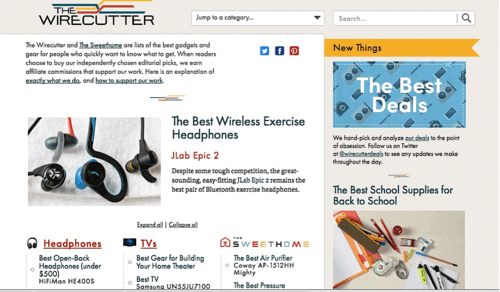 By writing super detailed reviews of hyper-specific products, they managed to generate $150 million in e-commerce transactions in 2015. And this was before they were acquired by the New York Times.
#6. Communicate With Your Customers
JetBlue is a budget airlines company that's killing it with digital marketing.
In particular, they're crushing it on Twitter. Usually, Twitter is where unhappy customers go to complain about brands. And then, the brand usually responds 2-3 hours later saying that they should "move it to the DMs".
Not JetBlue!
JetBlue uses its Twitter account to actually help with instant customer service!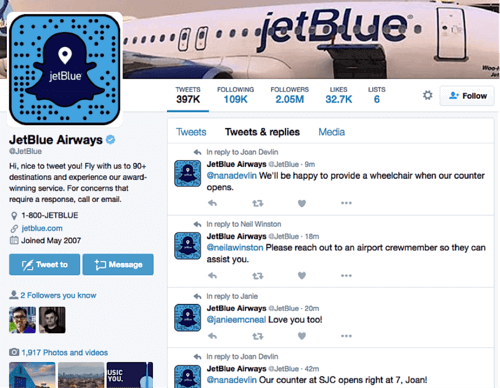 The beauty of this approach is that while all its competitors are busy being self-promotional, JetBlue is just there to help.
Very cool! And did you notice the reply tweet from JetBlue that went "Love you too!" in the screenshot? What do you think they were replying to? We'd bet good money that they got a great testimonial from a customer that's available on Twitter for everyone to see!
#7. Build Brand Reputation
Grindr took a stand.
Their stance was that there's a lot of sexual racism that takes place across the world. And every time someone tries to have a conversation about it, algorithms and manual reviews flag it as "inappropriate content".
And Grindr decided to start a podcast and use Twitter to popularize it with #KindrGrindr.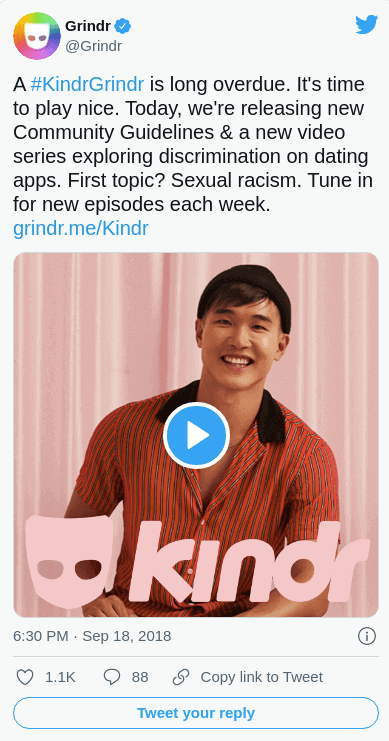 As a dating app, Grindr was a perfect brand to talk openly about kindness and conversation. And thanks to digital marketing, they were able to take charge and do it. In the process, they also built a brand that really resonated with their users.
Very cool!
#8. Perfect Segue to the Internet of Things
Internet of Things (IoT) is still a conversation for many small businesses. But that's the next step in marketing. And many brands are adopting it quickly.
For instance, Scriptr used IoT to create Saepio. Saepio is a combination of physical devices and cloud-based apps that help you maintain social distancing. It was the perfect solution for quarantine management and social distancing for their employees and public servants during the COVID-19 pandemic.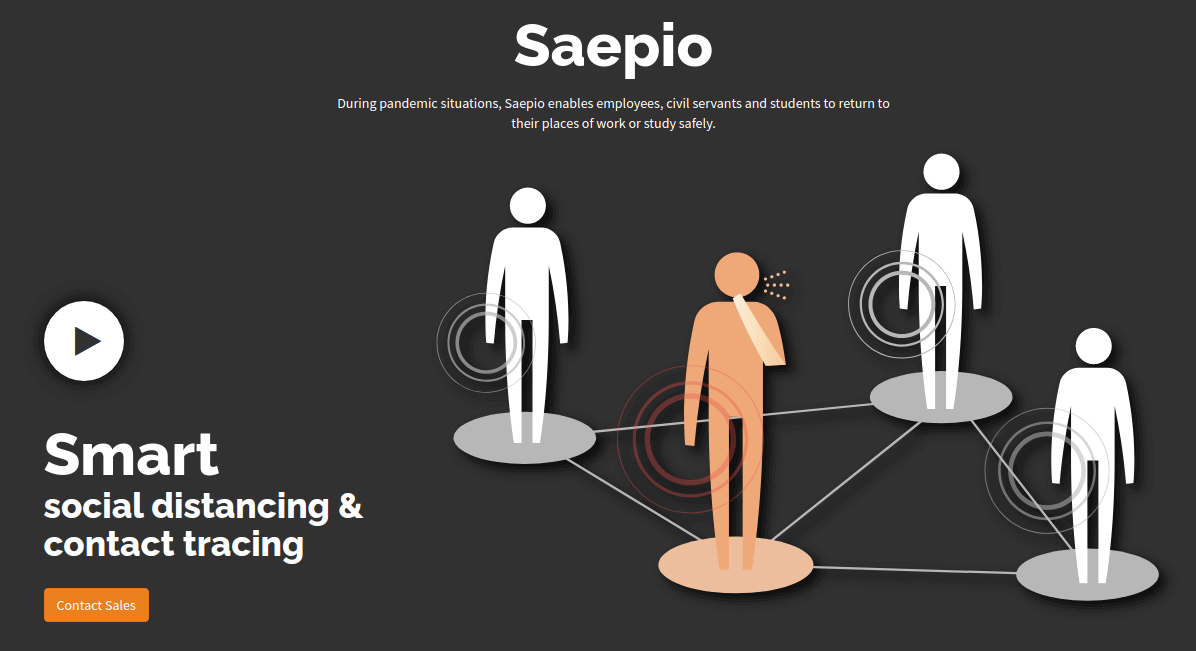 At the same time, Saepio helped people discover their other tech solutions.
Win-win!
#9. Cater to the Mobile Consumer
The average American spends almost 71% of their time on the internet from their mobiles.
So, if you're not catering to mobile devices, you're missing out on a huge opportunity. And this is especially true for competitive niches.
Now, you don't necessarily have to create an over-the-top advertising campaign with the help of AI and other buzzwords. Sometimes, it's a matter of simple targeting with colorful graphic design. It certainly worked for Headspace: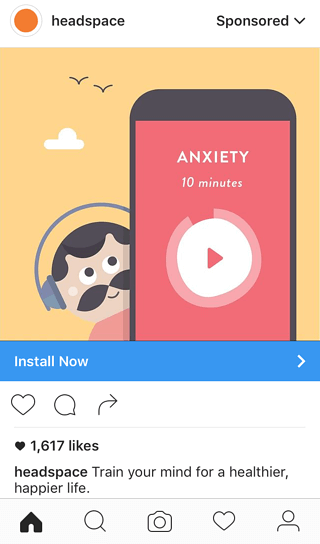 Headspace is a healthcare app and they targeted people with anxiety using a simple Instagram ad. And that's something you can do for your brand. No matter who you are, who you're selling to, and what your product is.
Wrapping Up
That's all for this one!
If you're still considering whether or not you should be investing in digital marketing, you should really check out this article on digital marketing stats.
And if you're feeling overwhelmed by what channel to start with, we recommend using push notifications on your website. It's simple, elegant, and incredibly flexible as a marketing solution. If that sounds nice to you, try out PushEngage.
PushEngage is the #1 push notification software in the world and you can even get started for free. So, if you haven't already, get started with PushEngage today!