Nowadays many websites are using Web Push Notifications as a re-engagement tool. You can increase the customer engagement rate using push notification. Many service providers for push notifications, offers various features to support different types of campaigns. With the increase in the adaptation of push notifications, many websites are using web push notification. However, make your push notification stand out on the user's device, you need to plan an effective push notification strategy. Before moving to the Push Notification strategy, we need to understand the different aspects of Push Notifications. In this article, we will cover strategies to increase the conversion rate of web push notification.
What is Push Notifications?
Have you seen small messages appearing on the desktop or on mobile anytime during the day? Below is an image of such a message: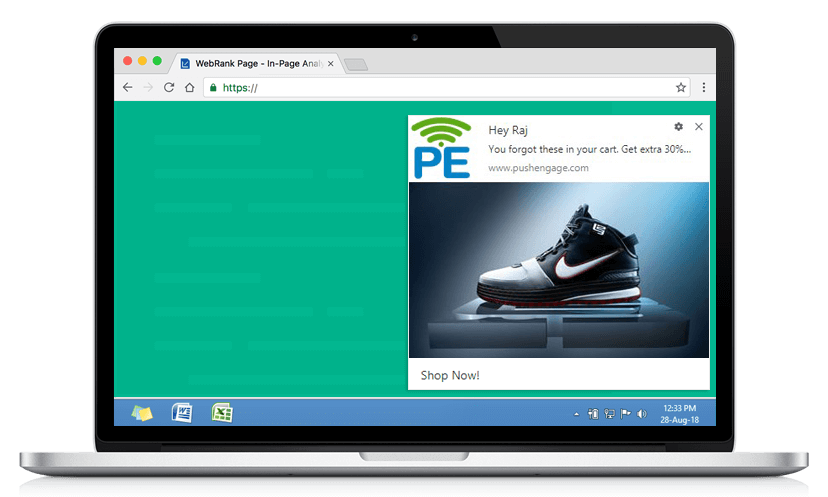 This is an example of Web Push Notifications. Once the user subscribes to Push Notifications, they will start receiving a push notification on their browser. Push Notification will appear on the user's browser even when they are not on the site.
Web Push Notification has 6 parts
Each part of push notification is critical to the success of push notification. Test and optimize each section to get a better result for your push notification.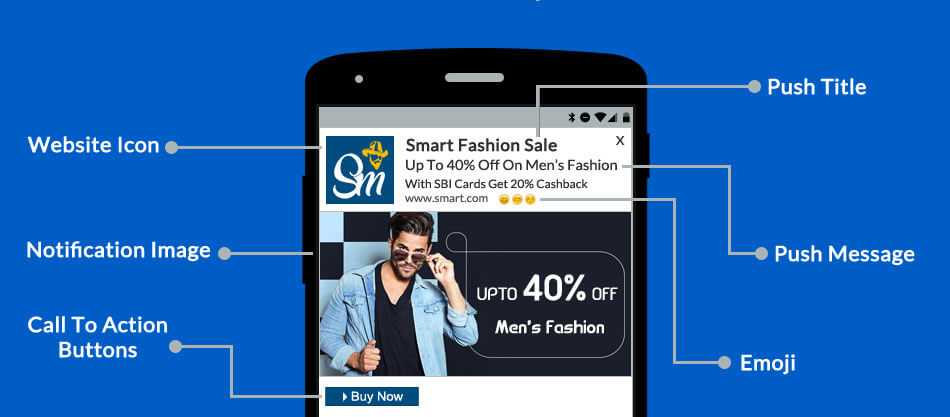 Website Icon: It represents your brand and that is how people will know that notification is from your website. Ensure every notification has the website icon.
Push Title: This is where you mention what the notification is about. Keep it crisp and simple.
Push Message: Here you can give more details about your push notification. Be brief and to the point.
Emojis: You can include emojis to your push notification. Usage of emojis has the advantage of triggering emotion in users mind which lead to an increase in click rate.
Notification image: You have the option to include or exclude images in push notifications. Including a large image gives you another place to make your push notifications more attractive.
CTA: Call to Action button is very important. Without CTA, the user may or may not know what to do when the notification appears. Make the text of the CTA clear. You can even use two CTA buttons to land the user on two different landing pages. For e.g. one is targeted for Male and another for females.
Here are the 7 important things for Effective Push Notification Strategy
Importance of opt-in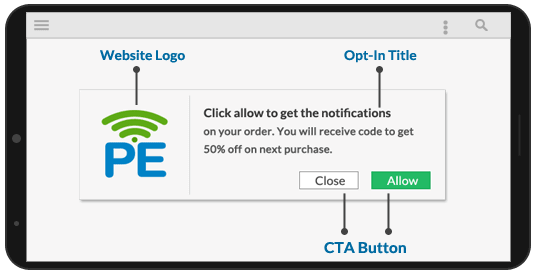 The 1st strategy is to optimize the opt-in. Before sending push notifications, you need to ask user permission in the form of opt-in. Once the user agrees, then only you can send push notifications to them. Opt-in can be of two types:
Single-step opt-in – Once the user clicks on Allow, the user is subscribed. The text and language of the notification are set by the browser.
Two-step opt-in – Here user needs to click Allow twice to confirm subscription. In this, you can customize the text of the opt-in box.
Strategy for opt-in
Single Step Opt-in – If you are an HTTPS website, use a single-step opt-in. We have observed that single step opt-in offers a higher subscription rate as compared to 2 steps opt-in. However, in case you are a non-https website, use the 2 steps opt-in. Over here you have the option to edit the text to convince the user to subscribe to your push notifications.
Delay – Don't show opt-in immediately when the user comes to your website. You can set up a delay before the opt-in appears. If the opt-in appears immediately, the customer may feel it intrusive and block. It is always recommended to put a delay of a minimum of 5 seconds.
Overlay – Mention clearly in the Subscription Overlay, why the user should opt-in to your push notification. This is a place where you can convince a user to subscribe to your notifications.
Importance of content
Content is push notification is – title, description. The content plays a very important rule in increasing click rates.
Title: Keep the push notification title short and clear. You can try different ways of writing the title:
Funny – Create some funny and relevant title so that user clicks on it
Inquisitive – Create some curiosity with the title. The user may click on the notification out of curiosity.
Urgency – You can also write content which shows some kind of urgency. This will again lead to an increase in click rates. Urgency and scarcity can drive sales for your business.
Description: This is where you mention in brief about the notification. The description should be in-line with the title. If you are using Urgency type, then maintain the same in the description as well. This is the push message that will have detail about the notification.
Importance of segmentation
All users who subscribe to your website do so for different reasons. If you put all subscribers under the same bucket of your marketing campaign, then you won't be getting the desired performance. The best way to achieve this is to segment them. Push Notification sent to the targeted segment results in a 2X increase in click rates. There are a number of ways to segment your push subscribers:
Based on website design: Segment subscribers based on the page from where they subscribed to your push notifications. This will give you 1st level understanding of the category user is interested in. For e.g., if a user subscribed to your push notification from the "Watch" category, you can create campaigns for this segment. Send them notification of the exclusive launch of new Watches.
Based on Customer Action: Create a segment for those users who add the product to cart or browsed product pages but forgets to complete the purchase. You can create separate campaigns to target them.
Based on Customer Status: If you have plan based product or service, then you will know on which plan the user is. Based on that you can create separate segments and target accordingly. For e.g., if a user is at the lower plan, you can create a campaign for them and share the different features of the higher plan. This may trigger them to upgrade to higher plans.
Based on Other Data: You can even segment based on user activity on your site. For e.g., if a user has watched a product video on your site, you can segment them as potential customers. Later you can send good offers on that product.
Similarly, if a user is always checking out the Sales Page, you can segment them dynamically and put them in a separate segment. This way you know which segment is likely to convert during the sale event.
Importance of AB testing
You never know which push notifications are going to get better results. To clear the picture, you can do AB testing of push notifications before sending it to all. You can test multiple factors using AB testing and compare the results. This will give a complete understanding of what type of notifications is favored more by your subscribers. Accordingly, you can design your other Push Notifications.
Importance of timing
Timing is very crucial to the success of Push Notification. A good notification sent at the wrong time will result in poorer performance as compared to the average notification sent at the right time. For e.g. you have subscribers who are college students and you send notifications during the day when they are in college. Though offer may be good your subscribers are not active.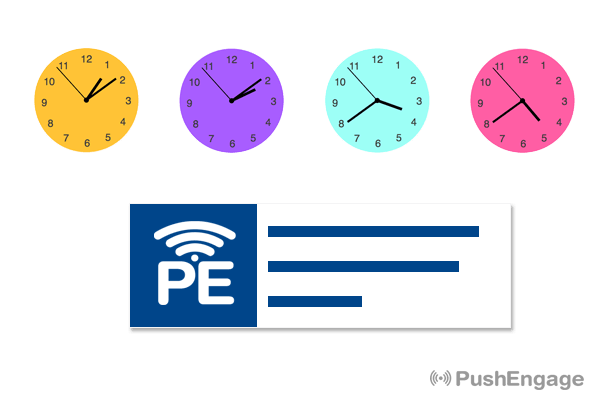 To find the right timing, analyze the old notification to see which notification has performed well and find the time and day when the performance was better. This will give you a rough estimated of when users are more active during the day. Your subscribers can be from a different timezone. Send push notifications in customer timezone to get a better conversion rate.
Personalization
Always personalize the notification. Personalization can be based on which segment they are and their activities. For e.g., if a customer has abandoned their cart, you can send a notification, including Cart Image and land them to the checkout page. Similarly, if a user has abandoned the browser, then land them on the page which they have abandoned.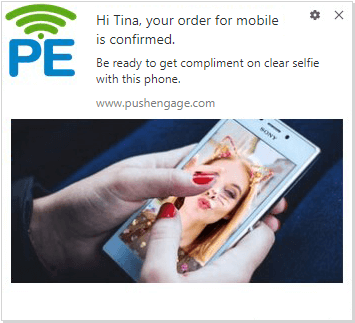 Importance of campaign
The most important accept of push notification strategy is a campaign. Campaigns help you to decide on what type of notification to send. Using Push Notifications, you can create different types of campaigns. Below are some of the top campaign ideas using Push Notifications:
Once a user subscribes to your website, you can start sending series of push notifications at regular intervals using Push Drip Campaign. For e.g., if you are a SaaS company, you can start educating the user about your product. You can share the latest post on various features with the user. This way you can keep your user engaged and also will be in the top of mind when they plan to purchase.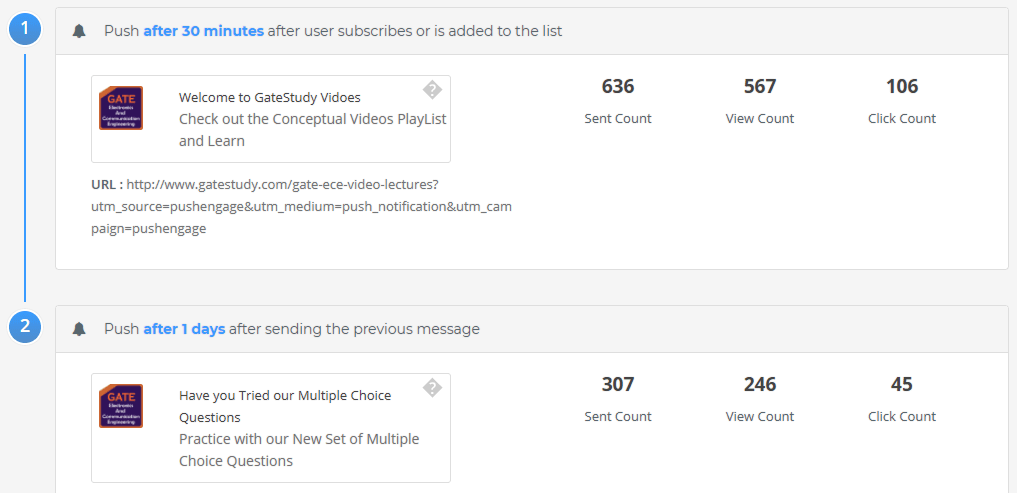 Cart Abandonment Campaign
When the user abandons their cart, you can create a series of notification to be sent at regular intervals. Include the image of the product and land the user on the checkout page. You can even include coupons to entice a user to complete the transaction. You can also share product reviews and trust signals to ensure the customer is confident about transacting on your website.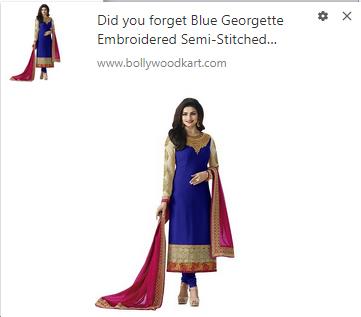 During festivals or any occasion, run a sale campaign. This campaign helps to get create noise about your website and also brings in new customers.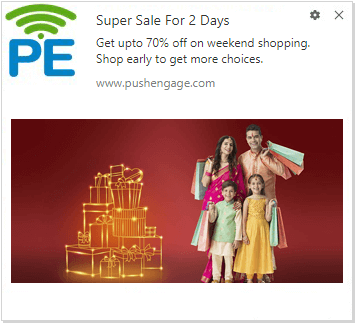 DOD campaigns are mainly run to ensure user visits and transact at least once a day. Many of the top websites like Amazon, Flipkart have Deal of Day section which offers the product at the lowest price for the day.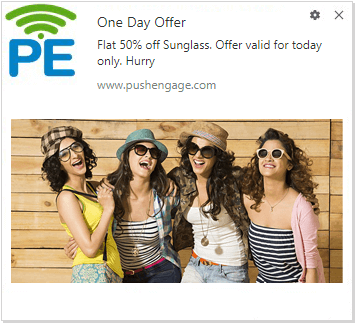 Browse Abandonment Campaign
Many users are window shoppers. They will visit check out different products or categories but leave the site without adding the product to cart or purchase. With Browse Abandonment Campaign, you can target those customers and promote your product. You can also share different products similar to the once user browsed.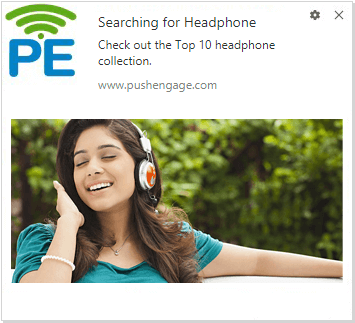 In today's internet world, product reviews are a must for the success of the online business. Using PushEnrgage, you can create a product review campaign very easily. Target those customers who have made the purchase but didn't review your product. You can even offer an incentive for sharing product feedback.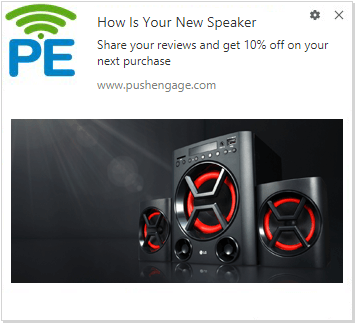 To increase your sales, you can run the cross-sell push notification campaign. Create notification with complimentary products that the customer has bought. For e.g., if the customer has bought Mobile, send push notification on Power Bank or headphones. This is the place where you can promote products from different categories and has a high chance of customer making a new purchase.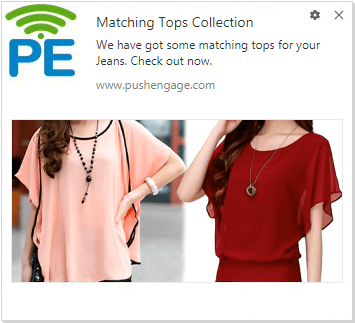 Take any trial and start using a free push notification service for 14 days. You will definitely benefit from web push notifications.