Do you want to know how to use Push Notification to boost customer engagement? Push Notification has proven to be one of the best customer engagement tools. In this article, we will explain how different push notification ideas to increase customer engagement.

You are seeing an increase in traffic to your website. However, the conversion is not increasing at the same pace and it's declining. The reason is engagement. Are you keeping users engaged to your website even after they left your site? People usually do not buy in a single visit but rather in multiple visits. You need to re-engage your visitors to convert them to customers.
Push Notification is the best tool to engage customers. It's easy to use and offers higher ROI as compared to any other engagement tool. Check out push notification case studies to see how ecommerce website got more than 10% of conversion by engaging visitors.
Due to high mobile internet access in recent years, the decline in email open rate rose considerably and then new channels came in to let the messages to be heard. Browser Push Notifications is the most influential one among all of them.
Push Notification technology delivers messages to user's devices from a website even though the user has not opened the browser. This message which pops out on your screen is clickable and so increases the chances of getting viewed.
Different types of Push Notifications are:
update readers about the new posts or any content,
notify the subscribers about an upcoming event or newly published e-books, webinars,
increase subscriber base
promote new products and services
engage users who are left your website
restore abandoned carts
instantly update customers about the flash sale
Web Push Notification is a great way to boost customer engagement if you focus on delivering valued information to your customers. Customer engagement results in repeat visit and purchase. So, it is more important to know the tactics to know how to engage your customers to turn them into subscribers.
Here is our list of effective Push Notification campaigns to boost customer engagement:
1. Subscriber On-Boarding Campaign
This is the very 1st push notification you should setup without fail. Whenever any new user subscribes, you need to keep him engaged and bring them back to your site.
You can create an on-boarding campaign using Drip feature. It gets triggered automatically when someone subscribes to your push notification. This gives you an opportunity to let user know about your brand and product. Creating a brand campaign in drip is very simple.
Identify what all you want to share with your subscriber to keep them engaged. Create a series of push notification for the on-boarding campaign to be sent at regular intervals. Below is a sample on-boarding campaign for travel site.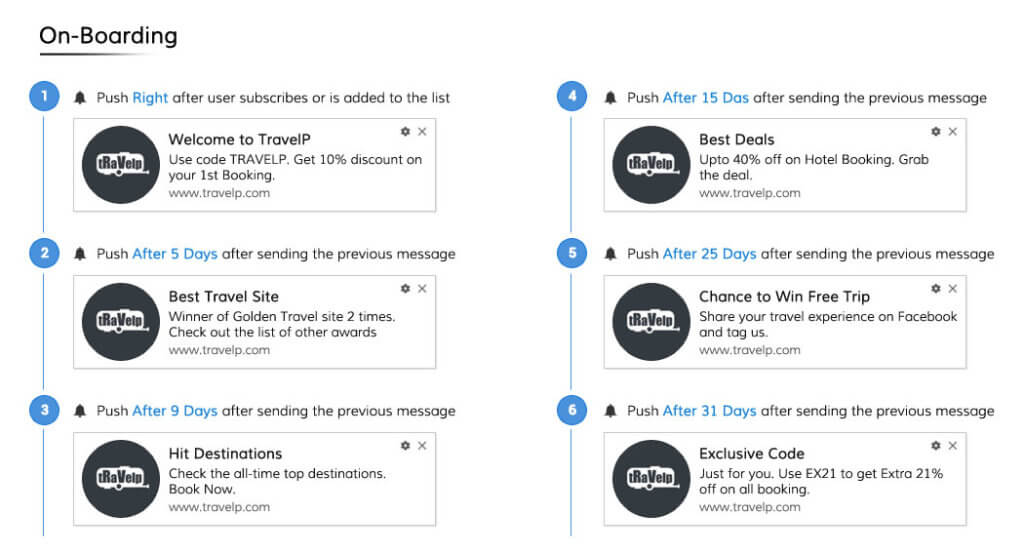 As you can see in the above, the website is showing the benefits of subscribing to the push notification. It even suggests travel destination as well as coupon code.
2. Out of Stock Inventory Campaign
Product getting out-of-stock is a common thing, specially for hot selling items. However, people are still coming to your website looking for that product.
These people are highly interested in your product. To keep your customer engaged, ask them to subscribe to get updates on the product. It has two benefits:
Increases your subscriber base
Keeps your subscriber engaged.
Once your product is back, you can instantly update them through inventory alert push notification. You can also update user about the number of units currently available through inventory alert campaign. This will create a scarcity of the product on the user's mind and can increase conversion rate
You can even attract them with an offer. It can boost your user engagement, and increase your revenue.
3. Abandoned shopping cart
The very common issue of every online business is cart abandonment. People abandons cart for variety of reasons. The good news is you can easily re-engage such users with cart abandonment push notification campaign.
This is one of the most converting campaign. Wicked Weasel is generating $2K to $4K just using cart abandonment campaign.
Once you setup cart abandonment campaign, it will run in auto mode. You can use the cart abandonment templates to create a series of push notifications.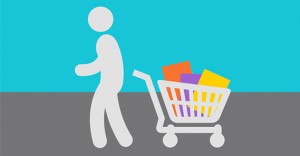 4. Price Drop Alerts
Price is a very strong motivator in buying decision. A lot of shoppers do a price comparison and are willing to wait for the price to fall before they buy. They will even compare the price across different websites.
These customers are already determined to buy the product and the only factor is price. This is an excellent opportunity to boost customer engagement by alerting them about any price change. You can enable Price drop alerts on your site using push notifications.
Whenever there is a price drop, it will automatically send notification to the subscriber. You can decide the price drop level at which you want to send notification.
5. Action Based Campaign
Every website has multiple touch points. Decide which are the most crucial to your business. E.g. for an SaaS website, "download pdf" is strong touch point that shows the interest level.
You can create trigger push notification based on customer action to increase engagement. In the above e.g. customer has downloaded the PDF that shows subscriber is interested. You can trigger a series of push notification that adds value for the subscriber.
Similarly, for ecommerce website, product review is very important. Using trigger campaign you can easily create product review campaign which will automatically triggered whenever a customer buys a product but haven't shared any review.
Trigger campaign gives you the flexibility to design any campaigns based on customer action. You can come up with your own set of triggers and implement the campaign.

Here are some tips as you create and run these campaigns –
1. Use Personalized Message
A personalized push message gives more impact than the regular one. It increases CTR by 25% based on the data we have seen. It is revealed that a majority of consumers respond to a message from their favourite brand if it turns out to be a personalized one. So go for it! To personalize you can check out our automatic segmentation feature here.
3. Schedule notifications based on local geo-location
Any user might get irritated if their mobile beeps during the odd time. So, make sure you schedule the messages based on local geolocation. For this, you use the customer timezone feature. It will send a notification based on subscriber's timezone. Also, never forget to put an expiry date on the notification.
3. Track push notification stats to improve engagement
Check on your click rate, your subscribers, and these numbers will let you know if you are performing or not. You can keep a tab on your inactive subscribers and retarget your users next time when you send your push notification the next time.
Another way to create boost customer engagement is by sending push notification based on emotion. Plan out the emotional triggers to send push notifications. This will improve customer engagement as well.
If you are serious about customer engagement, start using push notifications. You can easily boost customer engagement and increase conversions. If you are still not signed up for PushEngage, go ahead and sign up and enable these campaigns. You can check out the push notification example to see how it works. PushEngage now supports AMP as well which can help you drive more traffic.