Do you want to boost sale on your ecommerce website in new Year? If yes, then check out for the below-listed 22 Ecommerce Promotion Ideas. You can easily implement these ideas using push notifications.

The new year is the time when everybody is looking for shopping. Using the right online promotion ideas, you can easily double your revenue during this time.
The most effective types of ecommerce promotions are:
BOGO: Buy 1 Get 1 Free
Flash Sale: Valid for 2 Hours only
Free Shipping: Website offers free shipping of all products
DOD: Deal of the day offer to keep the user engaged
Cashback: Ecommerce business also offers cashback on every purchase
Loyalty Points: Offer higher loyalty points than regular ones during the promotion
Free Gift: Give a free gift on every purchase
In this article, we have added more than 20 ecommerce promotion ideas that you can execute. These are the most converting ecommerce promotional tactics.
1. Limited Stock Till Year-End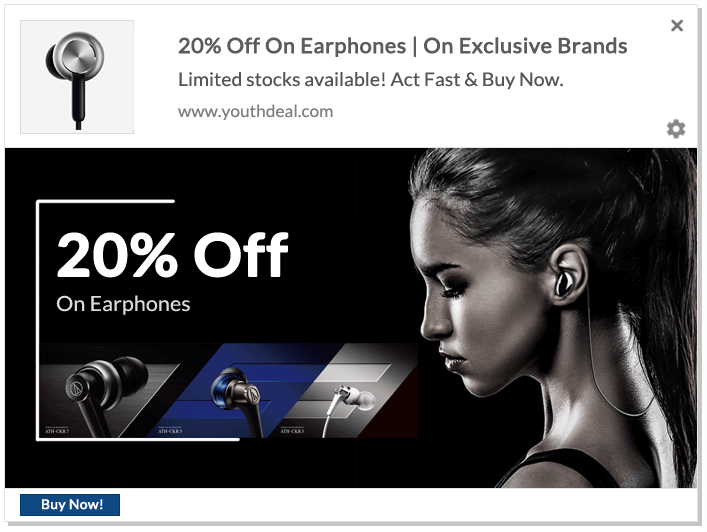 The Year is ending and everybody is in a rush with their last purchases of the year. This is the time to show them the list of your top products. Do mention the limited stock availability in your post.
The scarcity of a product makes a customer act fast. Send notification and clearly mention the limited stock to reinforce scarcity.
2. Deal Of The Day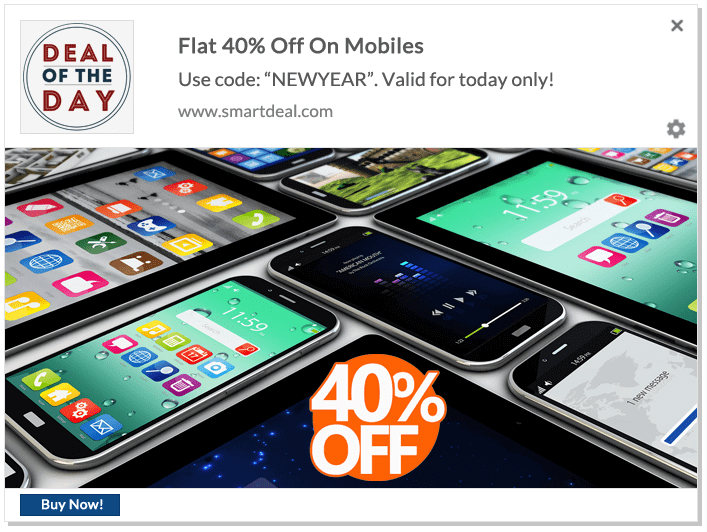 During New Year, each day is important. Start deal of the day offer and offer the best discount on the selected products. Daily promotion of certain goods will bring the user back to your store again and again. Promote your DoD offer in your web push notification. You can create multiple Deal Of the Day targeting specific segments.
3. Top 10 Dresses For New Year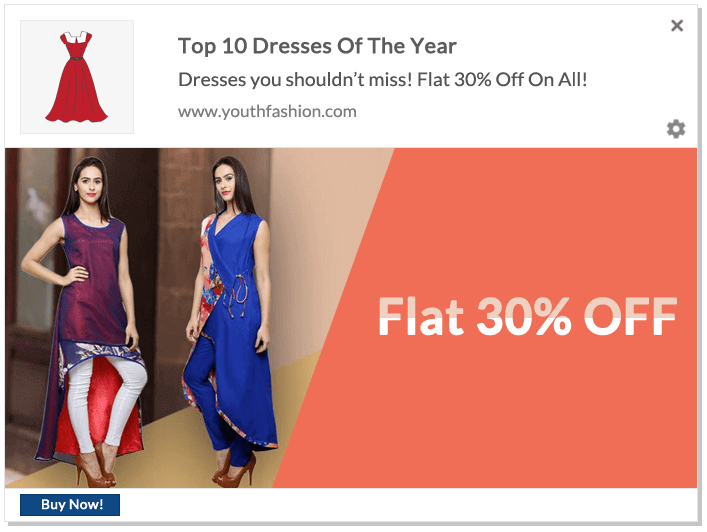 New Year Celebration is about getting dressed up with the best outfit. Everyone shops their favourite collection to look the best. Make a collection of the top-dresses for men, women, and teenagers. You can further create the collection based on relations as well.
4. Exclusive Collection For New Year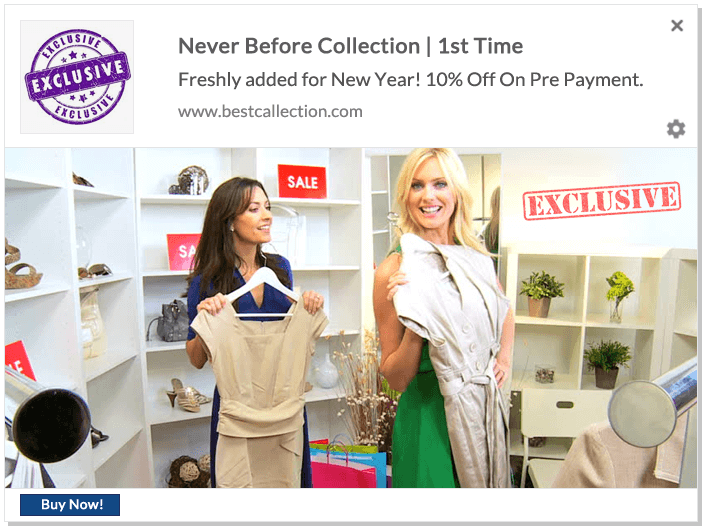 Create an exclusive collection for the New Year. The list should include products across categories. Keep the list updated with the latest products. Send notification to your customer about the exclusive collection of the product.
5. Perfect Gift Guide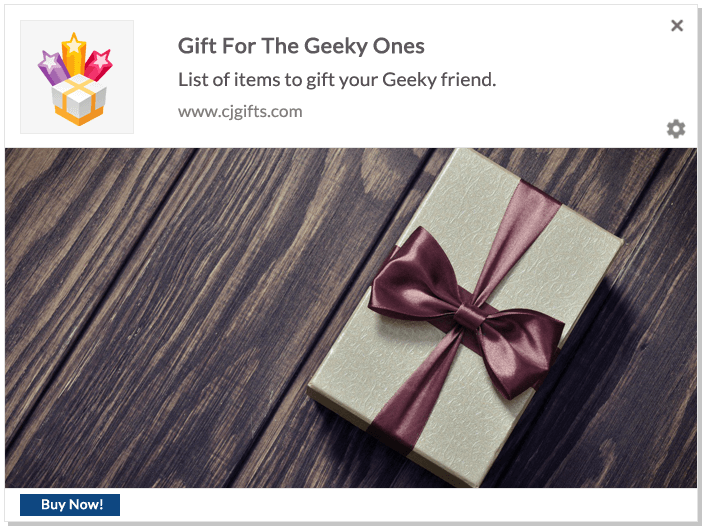 New Year is all about buying gifts for your loved ones. Make it easy for your customers to choose in buying the right gift. Create an easy to read guide with perfect gift ideas for the family and friends. You can write a blog giving the perfect gift ideas and include the product. Mention free Gift Guide in your push subscription Opt-in box as well. This will increase your subscription opt-in rate for notifications.

6. Dress For Travel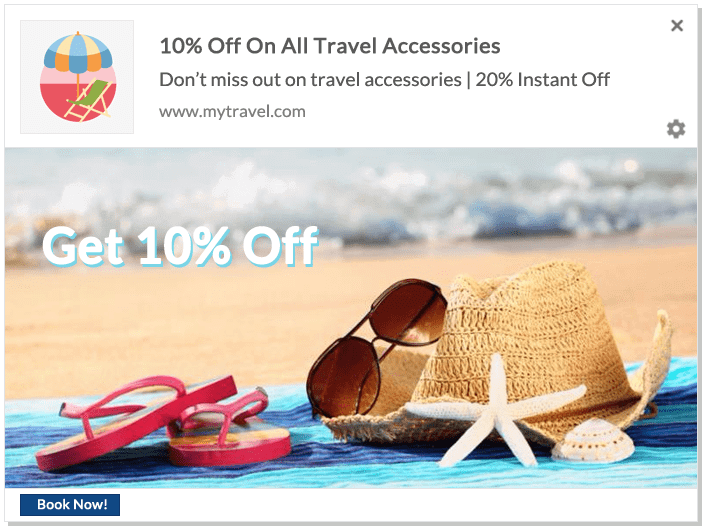 This is the Holiday season of the year. People travel to new places with family and friends and get rejuvenated. Create a list of products necessary for travel. It can include products from different categories like apparel to wear during travel, must-have travel accessories and many more. Be creative and showcase a good list of products related to travel.
7. Get Colorful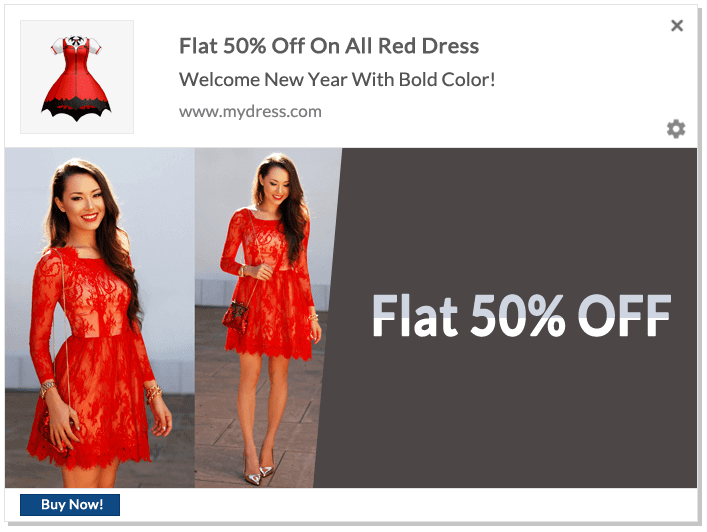 Show colorful designs this year. People love to wear vibrant colors to parties and holidays. Promote collection with a lot of colors and designs. Based on the occasion you can create a vibrant color collection and send web push notification to your subscribers.
8. Winter Special Fashion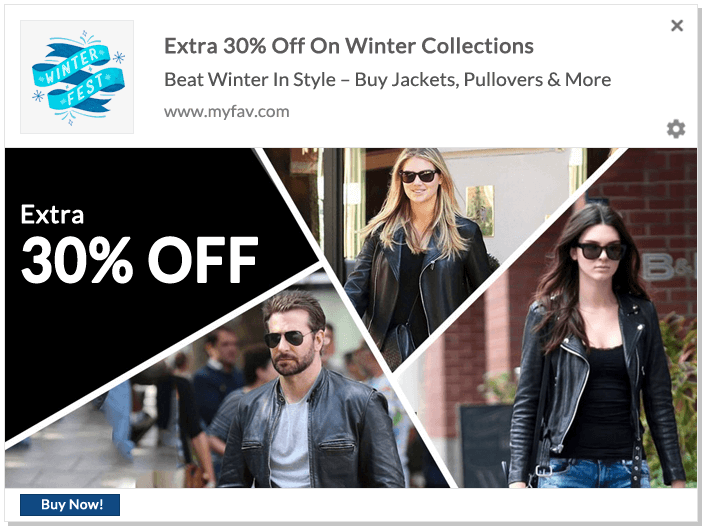 It's the winter season. Create winter exclusive collection for everyone. You can even create a collection specific to the target segment – male/female/kids. Along with the new year, this is the time for the seasonal discount as well.
9. Tool To Beat Winter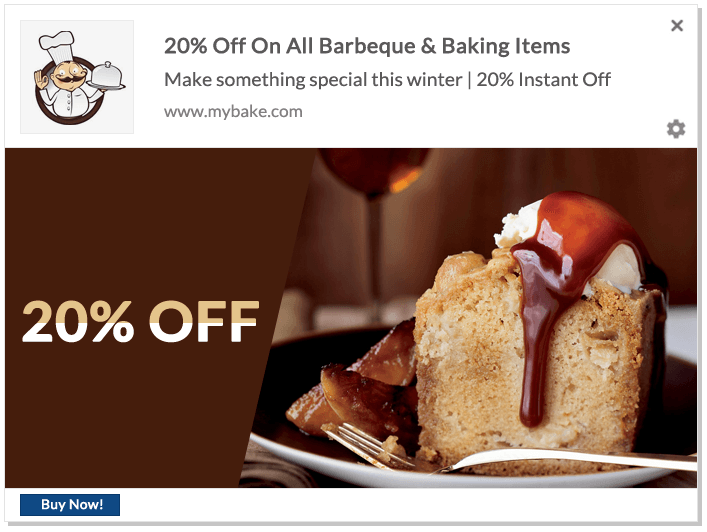 During winter friends and family get together around barbeque and bonfire. Make a collection of winter tools like baking tools, barbeque items. You can even run a web push notification contest and promote it everywhere. It will not only generate more sales but also more subscriptions.
10. Holiday Collection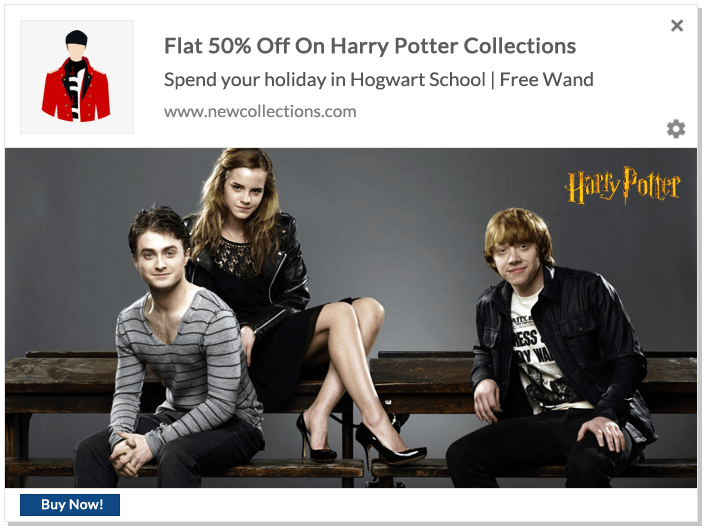 Give your subscriber something to learn or read new this holiday season. Books are a wonderful companion for many during holidays. Make a collection of bestselling novels and promote web push notifications.
11. Special Gift Set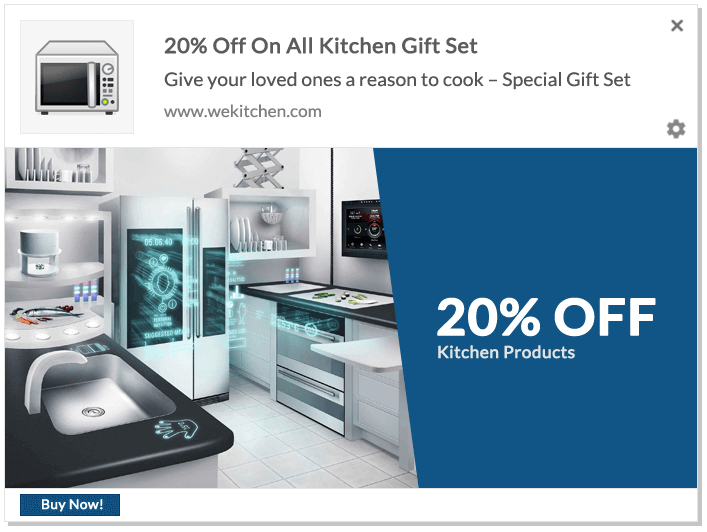 During the year-end, people love to buy gifts for their loved ones. A gift set with complementary products makes it easy for people to choose from. Create a gift set with multiple products like Baking set/Dining set and others. A gift set is one of the best and easy option to gift anyone.
12. New Year Couple Collection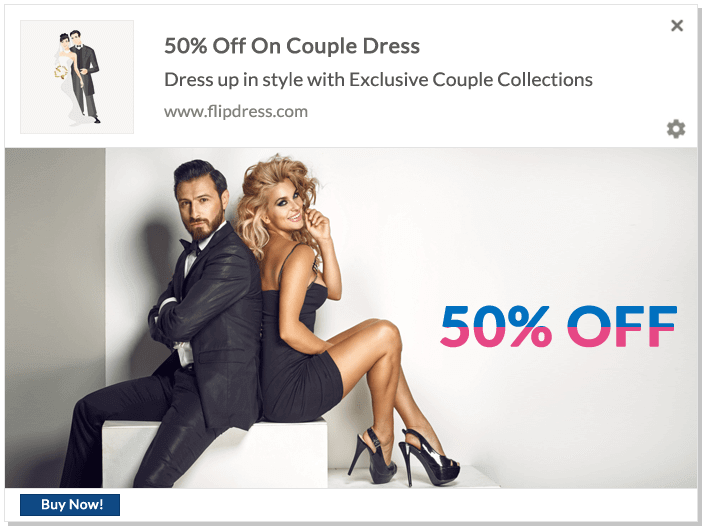 Target the couples with a special couple collection. Couple collection can include apparel, watches, footwear, tees, pillow and many other products. Run a couple contest and offer some exclusive couple collection as the prize. It will not only create a lasting impression on your customer but also increase the open rate of your web push notification.
13. Winter Travel Guide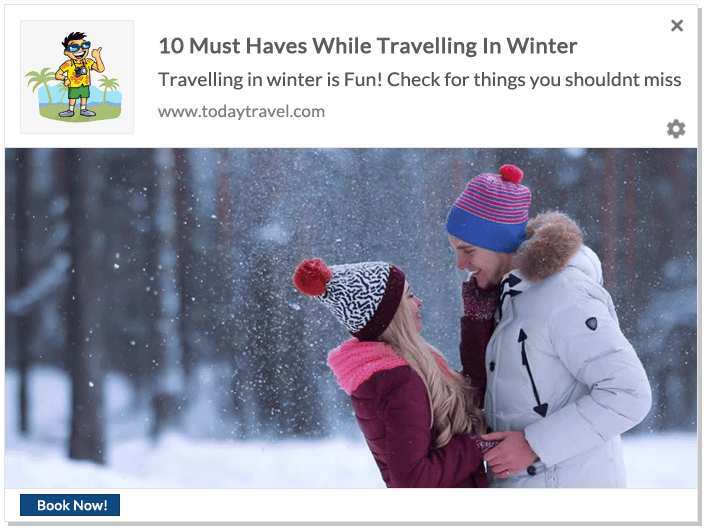 Create a travel guide for winter. The guide could be the places to visit, the dresses to wear during travel, handy gadgets. You can even mention the list of products and the benefits of winter gadgets. This is season-specific web push notifications. You can even create a similar kind of guide for other seasons.

14. Gift Cards
Gift cards are always a choice for gifting by many. Promoting gift cards have two-way benefits:
Firstly – Your current customer will buy the gift card from your site for their loved ones. This will in turn increase your sale.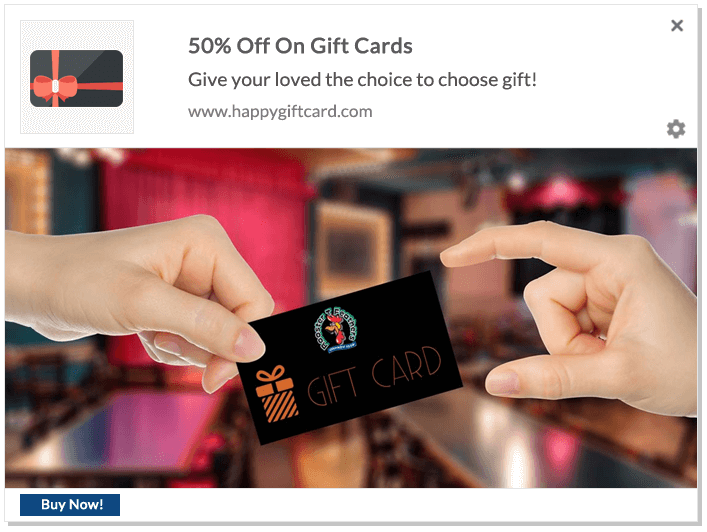 Secondly – If their loved ones are not your customers, but with the gift card they will come to your site for the purchase and become your customer.
A gift card is best to make your existing customer an advocate for your brand.
15. Stock It Up Before Price Changes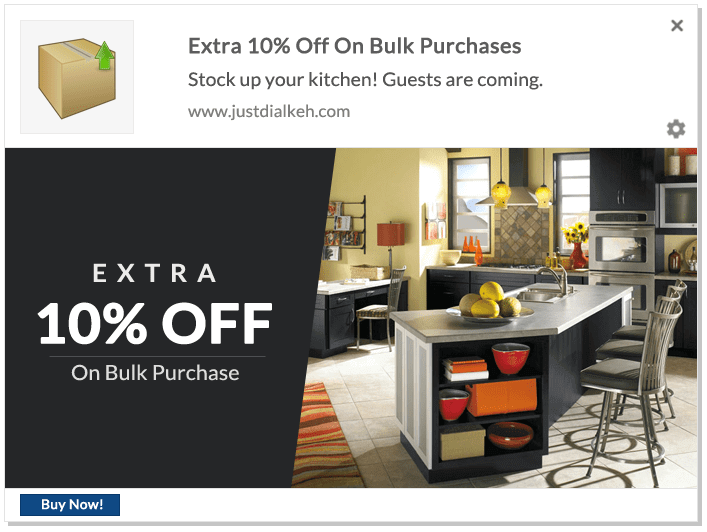 During this time, people expect guests or plans for a home party. Create a list of products necessary to have for hosting a party at home anytime.
Offering some discount on bulk purchases can increase your sales.
16. Free Gifts On Every Purchase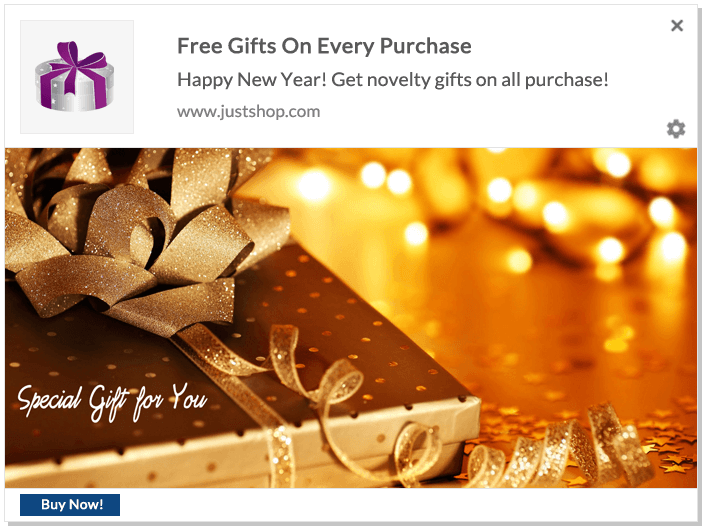 Let's make New Year special for your customers as well. Offer free gifts on every purchase. Send web push notification to subscribers about the free gifts. This will increase your brand loyalty. Ask them to share with their friends to earn more free gifts. This is the time of the year when sending free gift will create a lasting impression.
17. Extra Loyalty Points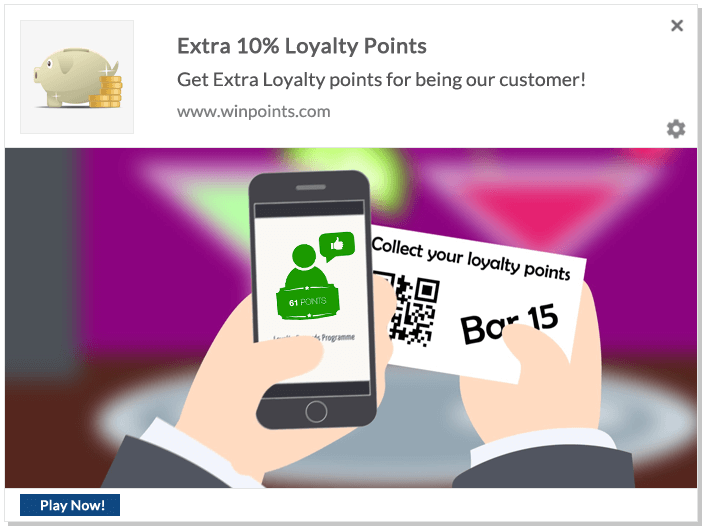 Do something special for your loyal customers. After all the loyal customers are the ones who keep your revenue going up. It's a good time to offer extra loyalty points only to the selective customer.
Since they are already your customers, you do not need to promote your brand. With extra loyalty points, customers will shop more from your site. You can even increase the point value for loyal customers.
18. Best Seller Of The Year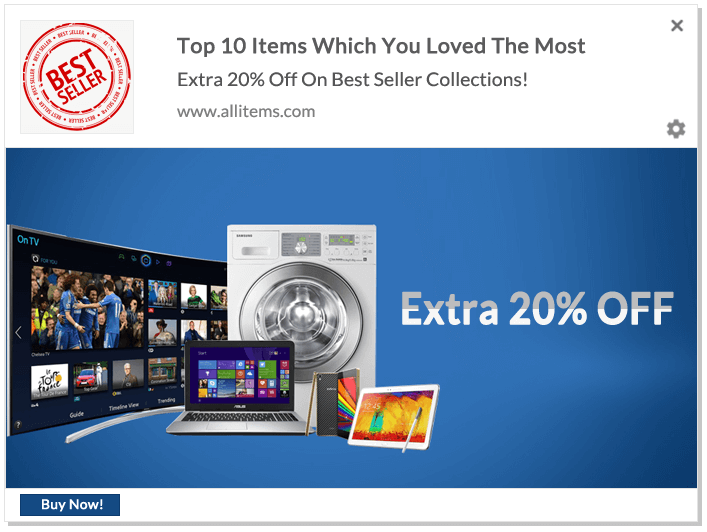 Create a list of the best seller of the year. These products have already been sold the maximum and have gained confidence among customers. You can create multiple lists based on categories and then send targeted web push notifications.
19. Offer On Beauty Products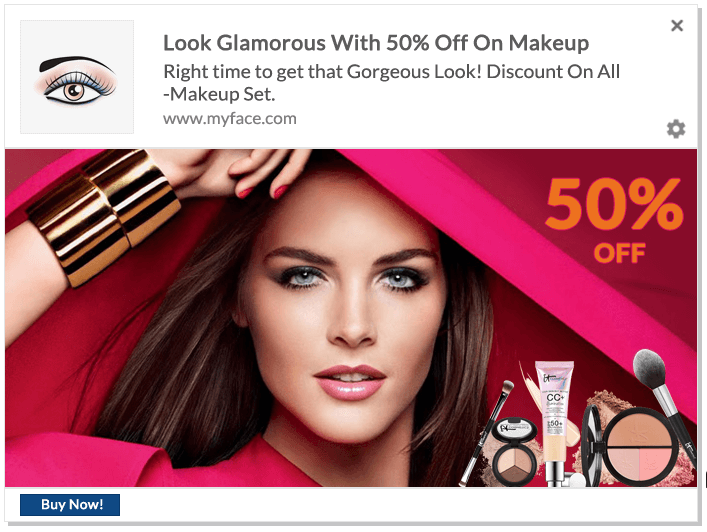 Everybody wants to look their best in the New Year. They will be going to the salon, spa to get a make-over. Create offers on beauty products and send web push notifications. You can also write a post on beauty and fashion and promote your products.
20. Home Makeover Collection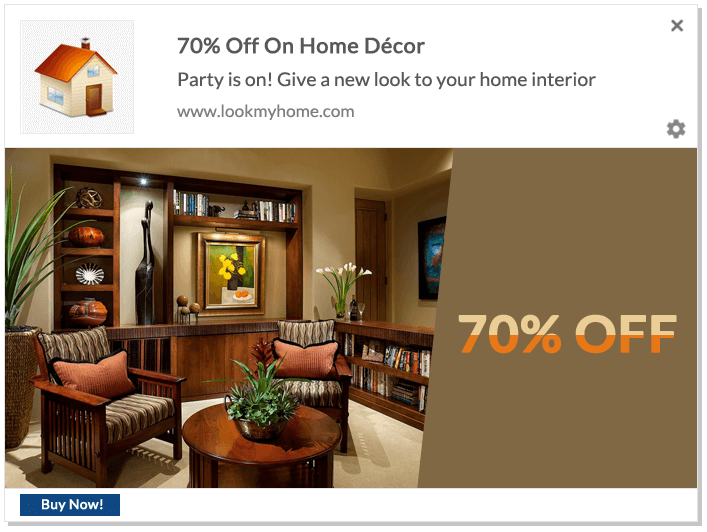 For many people, New Year means the new look of their home décor as well. In New Year, people would love to have a new collection for their home. Put some offers in the home collection. Run some contest asking the user to share their home decoration.
21. Extended Warranty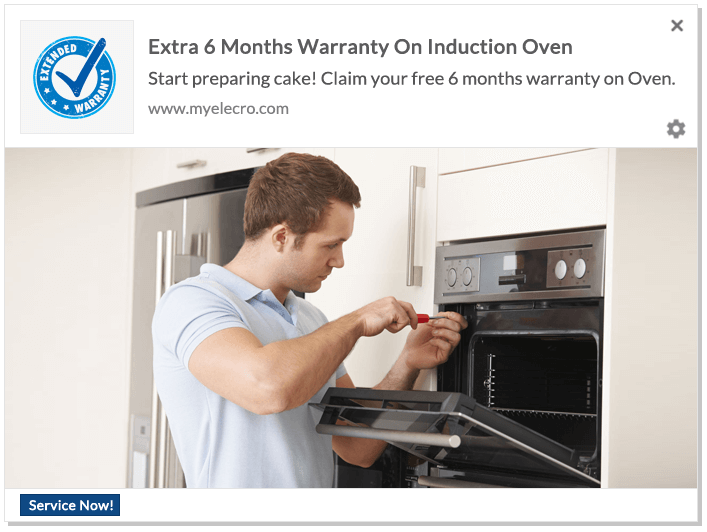 People tend to shop a lot during New Year. Give them peace of mind with a free extended warranty on electronics and electrical products. It will create more trust with your brand and make them a loyal customer. Send web push notification offering "Extended warranty on your notification".
22. Exclusive Fashion For Cold Night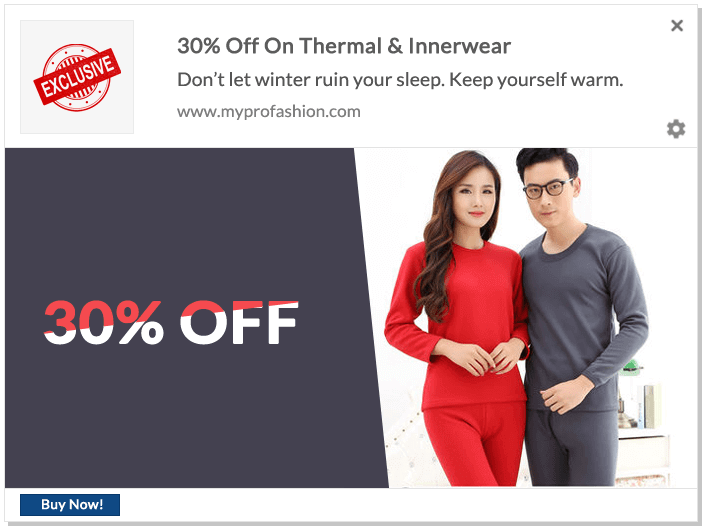 Winter is a good time to promote not only the regular fashion but also winter wear. People need to keep themselves warm during the season and this is the right time for you to promote winter clothing. Promote thermals, blankets in your web push notification. This is a season-specific promotion and the same can be planned during another season as well.
Grab this opportunity as it is the right time to boost your sales. Create a wonderful product list and promote target segments. Focus not only on sale but also create value for the customers. Implement these ecommerce promotion ideas this year.