With so many product choices available to consumers, it becomes difficult for consumers to choose and making a buying decision. To make it easy, companies have integrated product reviews from consumers, on their site, which in turn helps them increase conversion rates on the users landing. Since in online business, the user cannot touch or feel the product, so review becomes very critical to make the buying decision.
One study found 88% of consumers trust online reviews as much as personal recommendations. The products reviews have become critical to every online business and can have an impact on conversion rates. A study by Reevo indicates a lift of 4.6% in conversion rates with reviews.
You can even use push notification features to get reviews for your website. With PushEngage, you can start asking customers to review by sending a browser push notification to your buyers. Product Review notification campaign is one of the important trigger notification for e-commerce.
The reviews build a trust factor among customer, and you can generate them from your consumers in an automated manner using PushEngage. Getting reviews and ratings are one of the important tactics in conversion optimization.
Reviews for your e-commerce site has many benefits:
Trust Building: Customer can give good or bad reviews. If you receive good reviews, then the customer will certainly have a positive feeling about your product. A customer usually feels secured when they see so many positive reviews about your product. Always be open about your product on your website. If you get a review, then acknowledge the customer and see how you can help him. A bad review is bad if no actions are taken. To make it positive you should always send a push notification to customers asking how to make the product better. Bad reviews, when acknowledged build trust in customer about your brand.
Buying Decision: There could be many aspects of your product which are not clear to the customer. In review, people share their experience about the product and its usage. They share their feedback about the product and also share the images. This gives a clearer picture of the product and helps the customer in buying decision. Check the below example of a watch on Amazon:

A customer has clearly mentioned the product with images. Now this clarifies the doubt customer may have about the product.
SEO Benefits: Many of us know how important is SEO for online business. With each review, your product page becomes more content rich. It increases the amount of unique content for each of your product. Google considers review when ranking your website. Having reviews on your site creates authority in google eyes and will be preferred as compared to competitors with fewer reviews.
You can use the google review schema to get it indexed by Google. Always integrate multiple digital platforms to get reviews. Reviews received on external platforms values as much as compared to internal platforms. Google incorporates data from multiple third-party trusted platforms to review your site. You should get reviews on Social profiles (like facebook, twitter, Instagram, LinkedIn & more), Google review page, Any third party review site (relevant). You can even ask your customer to submit testimonials on the number of external websites.
Rising importance: With so many e-commerce coming up daily, reviews become a distinctive factor from others. Same products can be available across different sites, but a site with better review has a higher chance of getting converted. Below are some of the stats to consider if you are still in dilemma over reviews:
How to configure Product Review Campaign For your site With PushEngage Web Push Notifications
Now we know how important is "Review" for any e-commerce site. You can easily integrate Product Review Push Notification For E-Commerce with PushEngage.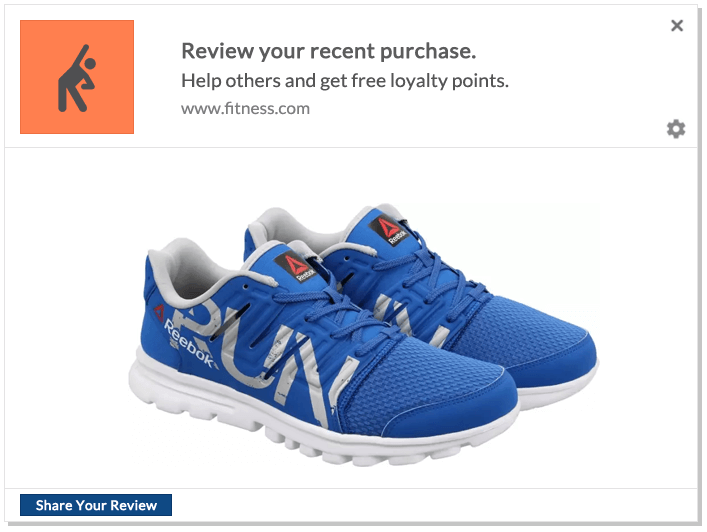 Making a Review Campaign in 5 Steps for those who bought a product but didn't give any review.
Here are the steps
Name your campaign: Go To Automation -> Trigger Campaign -> Create. Give a name to the campaign like "Product Review Trigger Campaign".
Set The Trigger Condition: We have already defined the trigger condition above. We need to create it here.
1st Condition (If): Name the condition as "Purchased". This is for the user who has made the purchase
2nd Condition (Else): Name the condition as "Not Reviewed". This is for the user who didn't give a review.
Frequency Limit for Notifications or Trigger Limit: This indicates how many times you want to limit a notification being sent to a consumer. This is useful if a consumer has bought multiple products, and you want to limit the number of notifications being sent to him. Here we are setting it to 1 notification per day for a product review. Currently, the first product that the consumer buys, he will be getting a notification for that.

Personalize The Trigger Notification Messaging: Create the notification with your messaging, and personalization. Here we personalize with the product name and the landing page of that product which consumer bought.
You can create single or series of Notification for Review campaign. 1st add the delay to ensure notifications doesn't start right away. For Review Trigger, add a delay of 15 days. The above notification will be sent after 15 days of purchase and if the customer hasn't given a review. After entering the details of Notification, click on "Submit".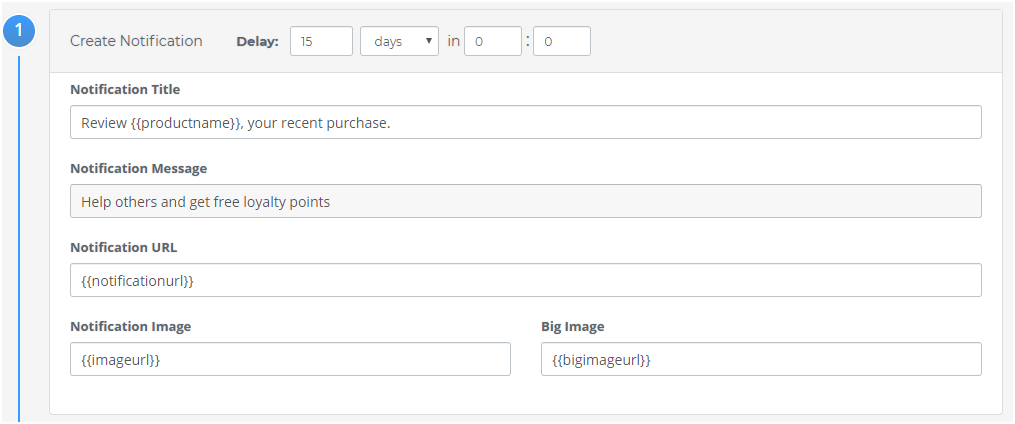 5. Integrate The Code: Click on your code to view the code, and send it to a developer. If you need help, connect with our team at care@pushengage.com.
The code has two parts:
Purchased: "Purchased" code to be called when your user completes the purchase. This code should be placed in the final thank you page after Check Out.
Reviewed: "Reviewed" code should be called when the user completes a review or cancels the order.
That is it you are set. Now you can go ahead and launch the trigger. Please note this should be done before sending the code to your developer.
Launching the Review Trigger: Once the code is integrated, go to Automation -> Trigger Campaign -> Analytics. Select the Campaign and Start the Review Trigger campaign.

For e.g. customer has bought the latest Skipping rope. After 15 days of purchase, you can ask about his experience with the product.
You can also use these notifications as an extra campaign or in conjunction with email campaigns if you are already doing one. That is it, you are now all set to manage your product review program on an auto-pilot.