Notice: There is no legacy documentation available for this item, so you are seeing the current documentation.
You can complete the 7 step checklist to go live with PushEngage and start engaging with your subscribers.
When you log in to PushEngage, you will be redirected to the Dashboard as shown below. At the top of the screen, it will show View Tasks

Below is the step by step explanation to complete the Tasks :
1.Upload your site image.
"A picture says a thousand words". Any notification sent will have a better impact if there is an image associated with it. An image can be uploaded for the notification by navigating in the below steps
2. Set your time zone.
Since the subscribers can be from across the world, it is important to set the Timezone to make sure that they would get the notifications in their respective Timezones. This ensures that the notifications are seen by the site visitors at the right times & not miss viewing them.
3. Install PushEngage JavaScript in your website.
This code helps to collect the subscribers on your own domain. Just copy the js code from the "Installation setting" and add it before the < /body > tag of your website. For more details on this, you can click on this Link

4. Set Welcome Notification.
As soon as a site visitor subscribes to your notification, it will look nice to send out a Welcome notification. This notification engages the customer, reminding them of the subscribed site & gets them ready to start getting notifications in the future.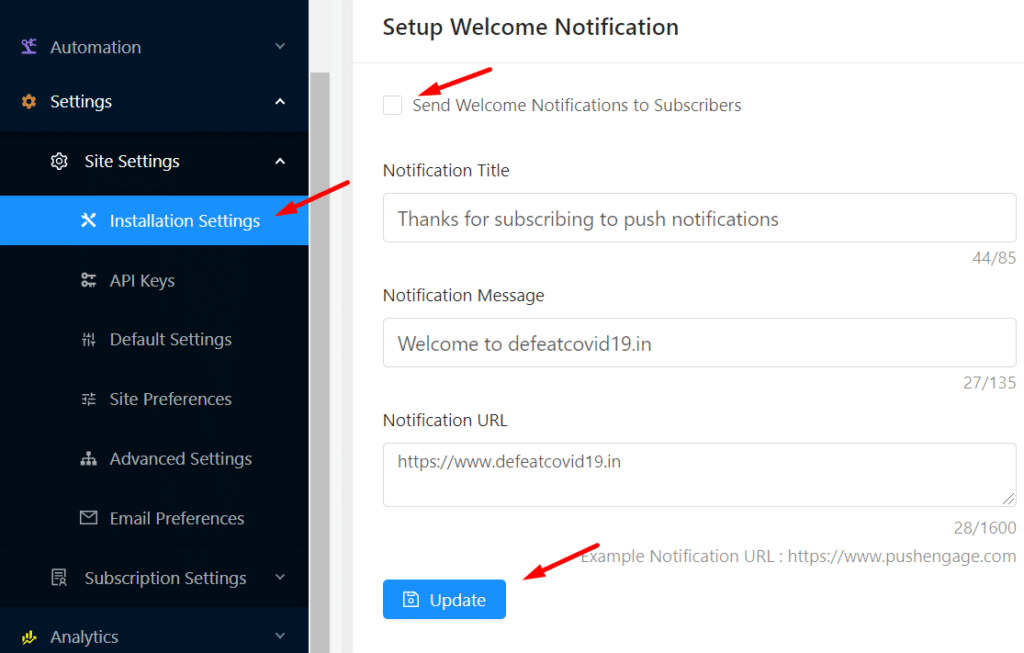 5. Single Step Opt-in
Single step Opt-in is proven to have a higher rate of subscriptions compared to all other subscription styles. This is since the site visitor has to click only on Allow only once to subscribe to your site. Whereas, all other styles need the visitor to click on Allow more than once.
Note : We need to have service worker file pasted in the website's root directory to enable Single step Opt-in.
6. Gather subscribers on your site.
To start sending Notifications, you need to have a minimum of one subscriber.
7. Send a notification.
Now, this is the most interesting part, since it is the Notification that gets your customers engaged with your website & products. It is the notifications that allow you to run campaigns. It is the notifications, that in a way may drive your business. Hence the below points have to be kept in mind :
What to send (the type of Notification)
Whom to send (selecting the Audience, Segmenting)
When to send (Auto-drip campaigns, Cart abandon, Browse abandon)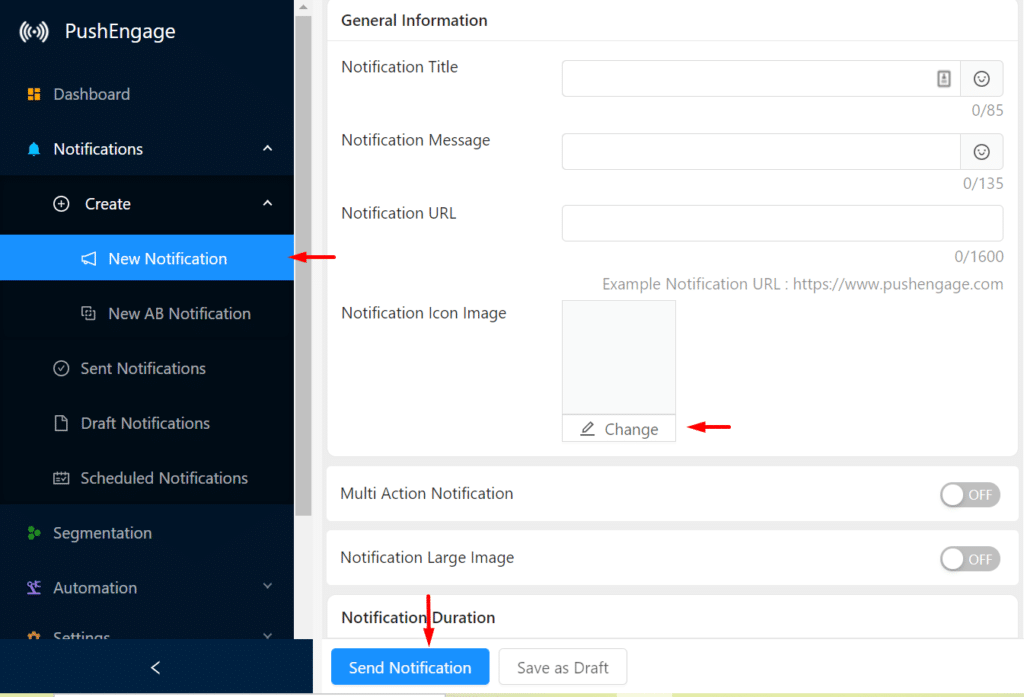 Enter all the details & set an image to send the notification with. Adding an image while sending notifications can help get attention of the viewer, resulting in higher rate of clicks.
If you have reached the end, Bravo! on getting the checklist done. You are now live with PushEngage on your website.