Notice: There is no legacy documentation available for this item, so you are seeing the current documentation.
Showing a Large image in your notification can capture more attention of your subscribers compared to a notification without it. This inturn increases ROI. You'll see in the below segment, how this image would look.
To create a Large Image Notification log in using your credentials and then you'll be redirected to the Dashboard. Navigate to Notifications > Create > New Notifications.
Enter the Notification title, message, URL, and change the logo. Then scroll down & enable the Notification Large Image option and then click on Insert Image. You can add any image size up to 360 x 240px.
After entering all the details, and the Notification Icon image is set, you can select one of the below options to upload an image:-
Recent Files – This shows the recent files that were used to upload the pics. Click on Use after previewing the image.
Upload -You can upload a picture of png, jpg, jpeg, gif format up to 20 MB. Click on Use after previewing the image.
Web Address(URL) – You can paste a link in the text box and can see the preview as well. Click on Use after previewing the image.
Image size in Mobile – 360 x 180px
Image size in Desktop – 360 x 240px
After adding the Large image your notification would look like this :
You can also make a Multi-Action Notification using Large Image Notification.
Click on Multi-Action Notification and add the title, URL, and image that you want to show for each button that needs to be clicked on.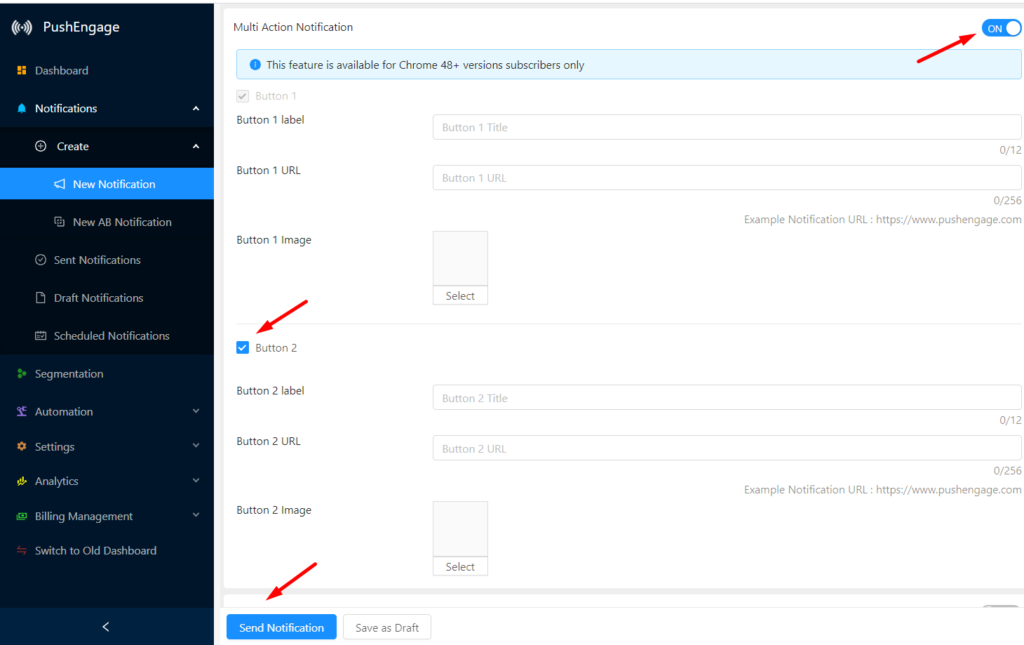 Your notification would look like this.
On clicking on ABC it will redirect your subscriber to the URL mentioned for ABC & like-wise for XYZ button.
You can then send the notification to the users right away or can schedule the notification and send it later.