Notice: There is no legacy documentation available for this item, so you are seeing the current documentation.
Going live with the platform is a very easy 3 step process that you can do in 10 mins.
If you have not already completed, then register yourself at PushEngage.
Here are the THREE easy steps to go live with PushEngage
1) Configure your website details in PushEngage dashboard
Once you register you will get login into the PushEngage dashboard. Login into the dashboard and configure the website details.
Under Settings > Site Settings > Installation Settings, You need to provide your Website Name and an Image for Push Notifications. The image is a key part of the notification, and we would recommend a solid image of 256px X 256 px or any square image. We would recommend a solid image.

You should also configure your Time Zone settings under Settings > Site Settings > Site preferences >Timezone Settings so that your notifications appear in the correct time zone.
2) Go Live By Adding the JavaScript Code on your website.
Identify the type of website you have. HTTP or HTTPS. Confused between the two types, here is a quick test for HTTPS sites. They will have the green lock in the URL address with Secure written like below.
If you are using a WordPress Plugin – go here to get the plugin and skip the step. The plugin will automatically add the below javascript code on your website. To activate your Plugin, you will need to get the API key from Settings.
All Other Websites – Insert the 2 Line javascript code present in the Settings> Site Settings > Installation Settings in HTML of your website, or wherever you would like to collect subscription. That is it you should be live now!

Go to Installation settings and download the package files. Extract the package file and place the service-worker.js file in the root folder. The file should be accessible. For e.g. – https://www.example.com/service-worker.js.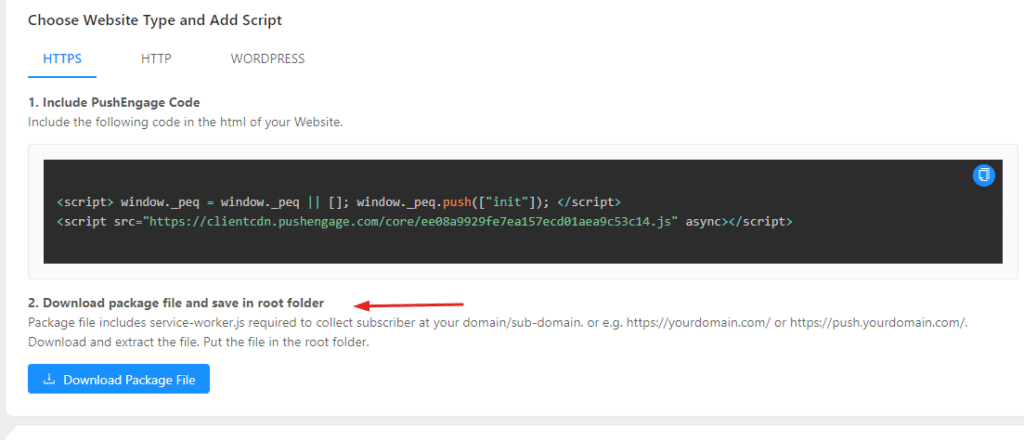 Also, place the above javascript code to the HTML of your website before </body> tag ends. You are now live with PushEngage.
If you are not able to place any files in your root folder– then follow the below settings.
Go to Settings > Subscription Settings > Selected Opt-in style > Edit > options Make Quick Install in HTTPS site to yes.
Alternatively, if you wish to collect a subscription on your own domain and want to add service-worker code to sub-folder, please write to care@pushengage.com.
3) Configure Your Opt-in Method and Subscription Settings
Now to configure your subscription pop-up, go to Settings -> Subscription Dialog Box Settings.
If you have an HTTPS site, then you will be getting the browser default opt-in pop-up as shown below. As of now, we don't have any way to change the language or the details of this pop-up.
If you are an HTTP site, then you have several ways to collect the subscribers. One Step opt-in is likely to get a higher subscription rate, so we encourage you to use that. You have the option to select from 7 different types of subscription opt-in. Configure Opt-In and start collecting push subscribers.
Next, you should Configure your welcome message. We recommend a Welcome Message for all subscribed users, as it acts as a confirmation for a new subscription. This is under Settings -> Welcome Notification Settings.
That is it you are now live with PushEngage on your site !! You can now test notifications on your site.